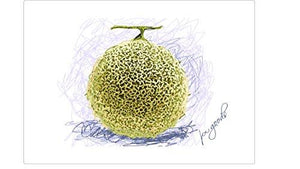 100 Goods Silicone Yubari Melon All-Weather Placemat , 11.4 X 16.1 X 0.03, Set Of 2 Transparent White
Regular price
$27.28
Sale price
$38.70
Set of TWO Silicone Placemat with Yubari Melon printed on 100% high quality food graded silicone, Original transparent white.

This food-graded silicone tableware is Eco-friendly and Dishwasher Safe. They can be used as home decor, Baking Mat, Non Stick Placemat, Hot Mat, Tablemat.

Ideal gift idea - A Cool Housewarming, Birthday Gift for Mother, Father, him, her, man, woman. Conversation starter for party, entertaining or wedding registry.

Our product is made of high end-silicone intermixed with food grade pigment and stabilizer, treated with precision temperature control and processing time. It makes the product very stable, not easy deteriorate nor discolor. It can withstand harsh weather and very suitable for outdoor usage.

They do not damage your table or floor. No problem with nature wood. Work refectly for glass table. These are soft and never leave a mark. Microwave safe, freezer safe, heat resistant and top rack dishwasher safe.

Color : Melon

Size : 11.4 x 16.1 x 0.03"
Silicones are inert, synthetic compounds with a variety of forms and uses. Typically heat-resistant and rubber-like, they are used in sealants, adhesives, lubricants, medical applications, cooking utensils, and insulation. As a low-taint, non-toxic material, silicone can be used where contact with food is required. Silicone is becoming an important product in the cookware industry, particularly bakeware and kitchen utensils. Silicone is used as an insulator in heat-resistant potholders and similar items; however, it is more conductive of heat than similar less dense fiber-based products. Silicone oven mitts are able to withstand temperatures up to 260 C (500 F), allowing reaching into boiling water. Molds for chocolate, ice, cookies, muffins and various other foods. Non-stick reusable mats used on baking sheets. Other products such as steamers, egg boilers or poachers, cookware lids, pot holders, trivets, and kitchen mats.