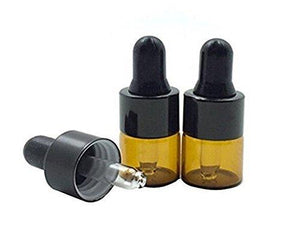 12 Pcs/24 Pcs 1Ml Empty Amber Glass Bottle Container Jar Pot Holder With Glass Eye Dropper For Essential Oil Cosmetics Elite Fluid (12Pcs)
Regular price
$23.99
Sale price
$33.39
Material: glass body.Color:Amber,Dark glass can effectively prevent ultraviolet damage to essential oils.

Package: 12 pcs/24 pcs; Material:Glass; Capacity: 1ml;

Perfect for essential oils, perfume oils, or other liquids.The bottles are definitely leak proof. Don't be worry your cosmetic or lotions will spill out.

Design for traveler.Suitable for liquid packaging. Such as eye drops,elite fluid, essential oil and so on.

Reusable,Sealing is good,easy to clean and easy to carry.

Size : 12pcs
Material: glass body.Color:Amber,Dark glass can effectively prevent ultraviolet damage to essential oils.
Package: 12 pcs/24 pcs; Material:Glass; Capacity: 1ml;
Perfect for essential oils, perfume oils, or other liquids.The bottles are definitely leak proof. Don't be worry your cosmetic or lotions will spill out.
Design for traveler.Suitable for liquid packaging. Such as eye drops,elite fluid, essential oil and so on.
Reusable,Sealing is good,easy to clean and easy to carry.