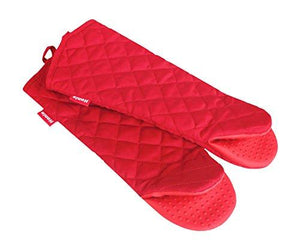 17-Inch Extra Long Oven Mitts With Non-Slip Silicone Grip - Heat Resistant To 500 F,1 Pair Of Kitchen Oven Gloves For Cooking,Baking,Grilling,Barbecue Potholders,Red - Honla
Regular price
$25.73
Sale price
$38.09
Size:17 x 7,cute puppet oven mitts with long sleeve,providing heat protection of forearms up to elbows,easy to clean and machine washable,a must-have tool/everyday essentials in every kitchen.

Commercial grade heat resistant oven mitts(up to 500 degree F),protecting hands from hot dishes,pots or microwave oven racks or off the stove when indoor/outdoor bbq grilling from high temperature.

Polka-dots pattern silicone oven mitts,100% FDA approved & BPA free,flexible and nonslip pot holders,safe in touching food,silicon treatment on both mouth sides for right or left handed use.

Deluxe cotton quilted & terrycloth/terry cloth lining professional oven mittens,well insulated and better heat protection,providing a comfortable and soft grip for your home or restaurants baking.

No waterproof,one size fits all,loop design for hanging hook storage,set of 2 oven mitts,these kitchen mitts definitely make a great Hostess,Housewarming,Christmas gift or even for a Bridal Shower.

Color : Red_17Inch

Size : Large
* Large Size
- They have very long sleeves (17-inches),pretty much cover the most part of your forearms/arms up to the elbow,nice roomy cooking mitts,perfect for big/large hands but also not bulky for small hands,you will definitely love the long length.

* Flexible
- With very thick quiltted padding and soft terrycloth lining,these terry oven mitts are definitely flexible unlike many others heavy weight/heavy duty oven mitts that are just too stiff to work with,making easily lift a dish out of the oven and carry it to the table.

* Heat Resistant to 500 Degree F (Test Passed by Honla Customers)
- At 200 degrees F,waiting 15 minutes,would not feel any heat from them and it would not feel like it would be going to slip.
- At 300 degrees F,waiting another 15 minutes,you would get the same results above.
- At 500 degrees F waiting another 15 minutes, it just felt warm,the material of the oven mitts would not scalding or melting.

* Multipurpose
- Work indoors for for safe handling of hot pans,hot dishes,cookie tray,cake pans,hot bowls,hot items from oven or pulls things-especially glassware out from the oven,good/best heat protectors.
- Work outdoors for barbeque grilling/grill,BBQ,handling a cast iron skillet or more heavy duty/weight oven use.
- The long sleeves on these silicone oven mitts let you cook your own pizza more easily.
- For bacon or steaks,the long length protect your skin from splattering the oil and hitting.

We strong recommend these Honla extra long oven mitts to you,if you have a habit of not opening the oven all the way when taking something out or always burn your forearm on the oven door.

Note:Don't touch the open flame.

Important Note:the desciption (heat resistant up to 500 degree F)on website means the silicone mouth part not fabric part,please avoid the fabric part contact the high temperature oven.