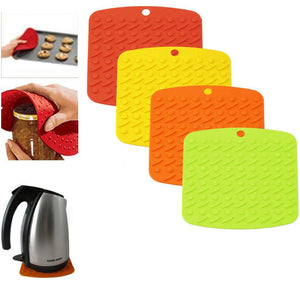 2 Silicone Pot Holder Oven Mitt Potholder Trivet Heat Flame Resistant 3 In1 !
Regular price
$6.16
Sale price
$14.99
2 Silicone Trivet & twist Off Grip Flame Resistant Potholder 3 in 1 Random Color New!
You will receive two trivets for this listing.
Available colors: red, orange, green, and yellow, you will receive a random color.
The brand new silicon sheet is great heat protection for your hands, whether you are in the kitchen or the backyard.
With this amazing sheet and you're prepared to deal with pretty much any kitchen chore.
Waterproof, and incredibly heat-resistant, it will protect your hand from boiling water, fat and oil up to 450 Degrees F, as well as direct flame, grills, charcoal. It even works when wet! It is made out of silicon, so you can be sure it will stand up to the rigors of baking and barbecuing.
Protects against temperatures up to 450F Heavy-duty silicone potholder for cooking with boiling water or oil or grilling Waterproof, nonporous, and stain-resistant
Flexible and comfort material Perfect for pots Size: 7"x6.75" each, square shaped with oval corners.
Make fabulous trivets Skid and slip resistant
Texture makes opening jar a snap
Ships from Florida, Usa same day.
Stock in warehouse.
Don't 3 wait weeks for the China ones.