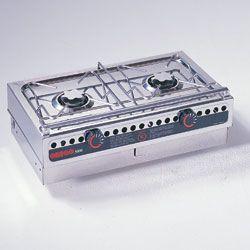 3000 - 2000 WATT 2 x BURNER
Regular price
$255.24
$0.00
ORIGO 3000 - 2000 WATT 2 x BURNER Safety first. With this principle, Origo buildsstoves and ovens for boating enthusiasts all over the world. They areabsolutely non-explosive, service-free, easy to handle, reliable andefficient: a delight for boatbuilders and owners.

The classic two-burner free-standing marine stove suitable for alltypes of boat. Manufactured to the highest standards and quality in 316 Stainless steel.

Power in Watts: 2000.

O/A Dimensions:
Width: 464mm.
Height: 137mm.
Depth: 262mm.

Gimbal mounting and pot holders as extras.