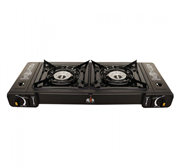 Alva Double Burner Butane Canister Gas Stove (uses CCR100 Gas canister) Retail Box 1 year warranty
Regular price
$671.00
$0.00
Alva Double Burner Butane Canister Gas Stove (uses CCR100 Gas canister) Retail Box 1 year warranty
Alva Double Burner Butane Canister Gas Stove (uses CCR100 Gas canister) Retail Box 1 year warranty

Product Overview
The Alva Double Burner Butane Canister Gas Stove is perfect for festivals and outdoor events and is perfect for off-premises catering and cooking demonstrations where electricity is not readily available. Simply unpack the portable burner, insert a butane cartridge, and you're ready to cook! This butane gas stove is simple and easy to use. The Butane gas cartridges are easy to install in the side compartment for effortless, portable cooking just about anywhere
Campers love this product and use them to cook anywhere you go. Perfect if you don't have access to electricity. If you have an omelette station this is a must have. Great flame, consistent temperature. Easy to use with butane canisters for portability. Very useful product. Great product for on the go and can be used for anything from catering to camping weekends. It is an extremely affordable product for those starting a business.

Features: 
Stock Code CCR102
Description Alva Double Burner Butane Canister Gas Stove
•Safety locking mechanism.
•Variable heat control.
•Cast aluminium burner.
•Enamelled pot holders.
•Lightweight design.
•For use with a EN417 approved 220g butane canister.
•Consumption: 166gr/hr at max.
•Dimensions: 635mm x 290mm x 105mm
•Weight: 2.76kg

Please Note Gas canister not included must be purchased separately .Uses CCR100 Butane Gas canister

Safety Information
When attaching a canister or filling a fuel tank or fuel bottle, ensure there are no naked flames, or smokers nearby, or cell phones switched on. If there are, carry the stove some distance away before refilling it. 10 metres isn't too far. Be very wary of highly reflective pots, pans and kettles as they can reflect the heat down on to the canister, causing the fuel to boil and the canister to rupture and then explode.