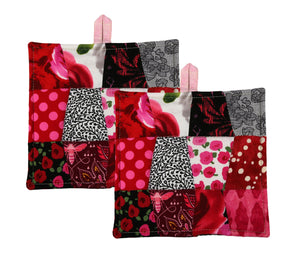 Andra Pot Holder Set of 2 - Haiti
Regular price
$26.00
$0.00
The pink and red patterns on these pot holders are accented by the black and white patterned fabric.åÊ
Product Features:
* Set includes 2 pot holders
* 8 x 8 inches with a 2 inch loop for hanging
* Double lined with both cotton batting and insulated lining
* Outer layers are made from 100% imported cotton fabric
* Machine wash, dry flat.
* Matching Andra oven mitts are available
The dream of a good job is out of reach for many women in Haiti especially for those who lack a formal education.
W.O.M.E.N. works to create sustainable jobs using a cottage style cooperative work structure, practical skill sets and the industrious work ethic of women in Haiti. Each year, W.O.M.E.N. organizes and sponsors training seminars in a variety of handmade crafts for more than 100 women. Those who show promise can become co-op leaders and given the equipment, tools, supplies, and materials needed to set up their own at-home business. Each woman s encouraged to hire others from within her community to help her produce artisanal quality crafts that enable her to support herself and her family.
For the first time, the women and their families find that there is enough food to eat and the children are able to attend good schools. The women now have bank accounts and many are able to build a proper home. Each woman feels a sense of pride and is respected in her community. Life begins to bloom and the future is bright for the Women of Milot.