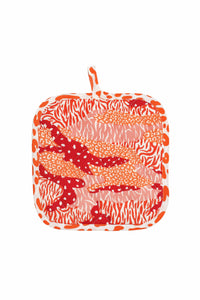 Big Cat Camo Pot Holder
Regular price
$20.00
$0.00
Colorful & camouflaged Tiger stripes and Leopard print make for a bold and bright kitchen accessory. A great gift idea for a fashionable foodie.
21 x 21 cm / 8 x 8 in 
Hand screen printed onto cotton linen (55% cotton, 45% linen) 
Side 1: Fierce Orange Big Cat Camo print 
Side 2: Foliage Green Big Cat Camo print 
Orange leopard print edging
**Each pot holder is unique and will feature a different crop of the print, which may differ from the image shown 
Safomasi's contemporary prints are the result of a mix of cultures and influences, observed and absorbed from their travels all over the world. Every single product is hand made by artisans in India and totally unique, and tells the story of a journey, through gorgeous colour combinations and a distinct illustrative style, with the aim of bringing joy and a small part of their colourful world into your home.