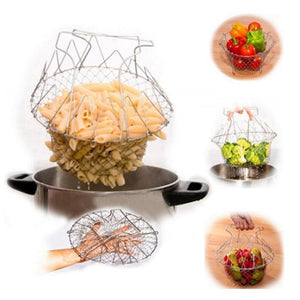 Foldable Deep Fry Chef Basket
Regular price
$14.97
Sale price
$34.99
Introducing the Foldable Deep Fry Chef Basket, the new cooking dynamo that transforms itself for dozens of everyday uses.

Making pasta can be an adventure. You have to grab tight with pot holder, take the water off the pot, and feel the burning heat of steam on your face but no, there must a better way. With the chef basket, you simply put in your pasta and put it in the pot, but when the water is boiling, the specially designed handles are totally cool to the touch. When the pasta's done, just grab the handles and go right from the pot to the plate, leaving that hot pot alone until it cools.
BENEFITS:
It starts off flat and instantly expands to a flexible basket that lets you cook, boil, or deep fry foods with ease.


Specially designed handles stay cool to the touch.


It folds flat for easy storage anywhere.
SPECIFICATIONS:
Type:Stainless Steel
Color:silvery
Material:304 Stainless Steel
Size:23cm x 23cm x 14cm
Handle size:16.5cm x 12.5cm
Shipping Weight: 0.15kg (0.33lb.)
Shipping Weight : 23cm x 23cm x 1cm (9.06in x 9.06in x 0.39in)
PACKAGE INCLUDE:
1 x Foldable Deep Fry Chef Basket