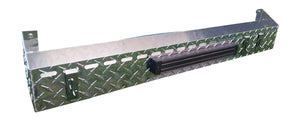 Front Tool and Bottle Tray for 36-inch Blackstone Griddle, Diamond Plate Aluminum
Regular price
$79.99
Sale price
$89.99
The Front Tool and Bottle Tray for 36-inch Blackstone Griddle in Diamond Plate Aluminum gives you the perfect place to hold your sauces, seasonings, and griddle tools.
The front tray uses a pair of mounting brackets to hold the tray without modifying your griddle.  The front tray does not interfere with the folding legs on the griddle base.

It comes with a magnetic tool holder to hold your scrapers and spatulas.  it also includes 4 moveable hooks for other tools, towels, or pot holders.