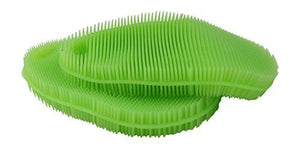 - Green Stay Clean Silicone Scrubby By Tortuga Home Goods
Regular price
$17.50
Sale price
$37.40
ANTIBACTERIAL DISH SCRUBBERS. The scrubbers are made of food grade silicone, which is naturally antibacterial and they are not porous like regular sponges and cloths are. With these silicone dish scrubbers, no more stinky bacteria-laden sponges! PLEASE NOTE: THEY DO NOT ABSORB WATER!

EASY TO CLEAN AND QUICK DRY. They can easily be popped in the dishwasher or boiling water to get clean and dry almost instantly.

MULTI-PURPOSE KITCHEN HELPER. The scrubber is about 3 inches long and fits in the hand nicely. It can be used as a pot holder due to its heat resistant feature.

SOFT, FLEXIBLE AND SCRATCH FREE. The brush with soft bristles provides a gentle scrub and will not scratch. The soft flexible sponge can get into glasses or corners that other sponges just can't reach.

2 PACK. These silicone dish scrubbers are durable. Each scrubber has a hanging loop for drying or storage.
The Tortuga Home Goods Scrub Sponge is made of silicone which is antibacterial by nature. Our scrubby sponges don't have pores like regular sponges which also helps inhibit natural growth. The scrubbys can easily be boiled or put though the dishwasher to remove food particles and any worry of bacterial growth. The SIlicone scrub sponges are much easier to keep clean and dry. They don't absorb water and does not sour like cloth or sponges. Versatile Dish Scrubbers The silicone antibacterial sponges are designed to be dish or veggie scrubbers and they can also be used as pot holders since they are double sided and heat resistant. They can even be used to clean makeup brushes and remove lint from clothing. Click Add to Cart to Get Antibacterial Dish Scrubbers!