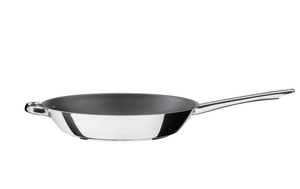 IKEA OUMBÄRLIG Frying Pan - 32 CM
Regular price
$5,500.00
Sale price
$7,000.00
Thick base with one layer of aluminum between two layers of stainless steel. Gives an even and energy-efficient heat, which reduces the risk of food burning and sticking.
Works well on all types of hobs, including induction hob.
With Teflon® Platinum plus, a very hardwearing non-stick coating that makes the pan suitable for everyday use.
Made of stainless steel, which makes the pan durable and easy to clean.
STABIL lid dia. 34 cm fit.
STABIL splatter screen fits.
Keep in mind that the handle becomes hot when using the frying pan. Always use pot holders when moving it or removing the lid.
Wash this product before using it for the first time.
Product Dimensions:
Height: 6 cm
Diameter: 32 cm