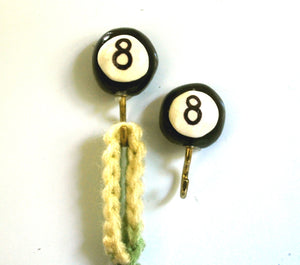 8 Ball Kitchen Refrigerator Magnets for Potholders
Regular price
$7.00
$0.00
8-Ball Kitchen Pot Holder  Magnet Handmade Polymer Clay 
Got a sports bar with a refrigerator that needs a hooked magnet? Then this 8-ball kitchen magnet comes with a hook that you can hang a potholder from. 
When you're cooking, you want your potholders handy. What better way than to put them on a hook by your stove?  My potholder magnets are cute and functional! Use this potholder magnet to keep your potholders within reach. You can even stick notes or recipes under the magnet. Suits a sports themed kitchen.
8-Ball
Set of 2
Polymer clay
Heavy duty
1-inch or bigger

HD-PM-8-ball

Looking for more cute and adorable magnets, including potholder magnets, then click .