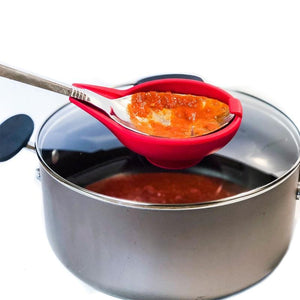 4-in-1 Silicone Kitchen Tool -60%OFF
Regular price
$19.95
Sale price
$49.87
When in the kitchen, you always look forward cooking with convenience. It helps you save time and yourself from the hassle of preparing and cooking dishes.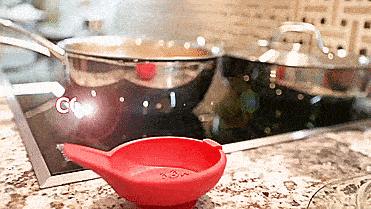 Introducing a CLEVER COOKING product that will help you in your kitchen, the 4-in-1 SILICONE KITCHEN TOOL. It's a multifunctional kitchen tool that will make your kitchen experience easier.

✔ SUCTION CUP FOR LID

 

- The Spoon Buddy is suction cupped onto the top of your pot lid while you cook - minimizing mess on your counter and allowing for quick access!

✔ HEAT RESISTANT

 

- The silicone material of the Spoon Buddy won't melt or become misshapen with heat - it's designed for cooking temperatures and will keep its shape.

✔ REDUCES MESS

 

- Instead of creating a dripping mess transferring your utensil to your counter, the spoon buddy keeps your utensils on the pot - and keeps them from falling into the pot when not in use.
✔ FITS A WIDE VARIETY OF UTENSILS - Whether you're using a spatula, spoon, ladle, or fork, you can rest them on top of your cooking pot lid and avoid making a mess!
✔ HELPS OPEN JARS - As a bonus feature, the silicone material is excellent for opening jars and difficult lids!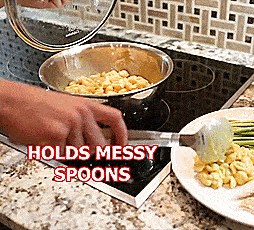 The 4-in-1 SILICONE KITCHEN TOOL has FOUR DIFFERENT FUNCTIONS. With it's SILICONE SUCTION and HEAT RESISTANT the four functions made possible: SPOON REST, with its SUCTION cup base that lets it stick wherever you want to REST your spoon while COOKING or you can use it as a POT HOLDER. Turn it upside down and make it as a JAR LID OPENERand lastly, you can use it for SERVING your favorite SAUCE.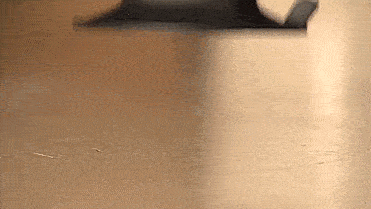 The bottom of the device has a suction cup that'll stick to most kitchen surfaces. Then just rest your spoon inside, and there's alittle notch on the inside that'll keep your spoon upright without it falling out of the holder.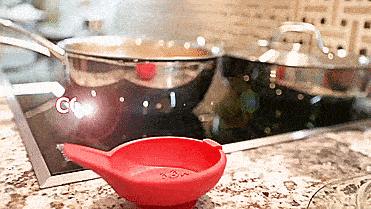 Fits most kitchen utensils including large spoons, serving spoons, ladles, tongs, and more, and can even be attached right to the top the lid your cooking with for extra cleanliness and ease of use. It'll keep your cooking utensils off of the germ filled surfaces youusually set them down on, and make the clean-up process after cooking much easier to deal with.

It FITS a WIDE VARIETY of utensils. Its EASY to wash and DISHWASHER SAFE. 


Specifications:


Colour : Red
Package Included:
4-in-1 Silicone Kitchen Tool x 1pc