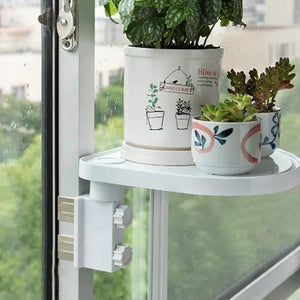 No Drill Nail-Free Floating Shelf Window Storage Rack Flower Pot Holder
Regular price
$39.95
Sale price
$56.95
Houseplants can finally bask again under the sun with this NO-DRILL FLOATING WINDOW SHELF!
Keep your houseplants alive and healthy. They usually just need some water & a little bit of sunshine! Place the plants directly on the fan-shaped turntable in front of the window! Do not use nails to fix, directly twist the bayonet to complete the installation. Unique rotation design, you can freely adjust the rotation Angle, your items in good order. It can also be used in the kitchen, bedroom, the bathroom can be fixed tray any scene.
MINIATURE WATERPROOF DESIGN: Tray edge with drainage slot, you can collect the tray surface water, so as to keep the tray surface smooth and clean.
NO-DRILL: No nails or drilling needed! Just attach metal clamps to the area! Move anytime you need to get the best sunlight possible for your green babies! Just place clamps on the desired area and the 2 knobs to lock in place! Easy breezy! Install & remove in minutes!
ROTATABLE DESIGN: The tray can be rotated horizontally, and you can adjust the angle of the tray to make it look better.
HIGH-QUALITY ABS MATERIAL: Made of durable ABS material that can withstand heavy items! Not only great for potted plants but for a wide range of items such as books, CDs, vases, photo frames and everything else you can think of!
Give your plants that healthy dose of sunlight NOW with the NO-DRILL NAIL-FREE FLOATING WINDOW SHELF RACK!!
How to use
Adjust the width of the bracket clamp to the fixed position.
Attach the bracket to the fixing port.
Tighten the two retaining screws.
Put the sector tray on the bracket and tighten it.
Complete the installation, confirm the stability and then use.
Specifications
Material: High-quality ABS tray and support, Stainless steel metal clamps.
Size: 29 x 29 x 6cm.
Weight: 700g.
Color: White.