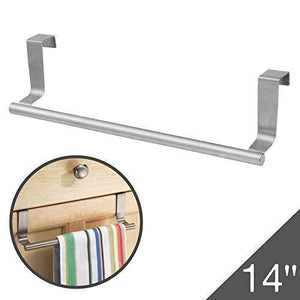 Over Cabinet Towel Bar with Hooks, 14" Brushed Stainless Steel Towel Rack for Bathroom and Kitchen with 22 Lbs Maximum Load
Regular price
$11.90
Sale price
$18.50
Brand: Slip On Rack
Color: 14 Inch
Features:
INSTANT STORAGE - Save more space and keep the kitchen towel within your arm's reach using this hanging towel rack. It fits over the cabinet door in the kitchen, bathroom, garage, or even office. You can easily eliminate the clutter on your kitchen counter and create easy access to those towels.
EASY INSTALLATION - No don't need any instruction needed or drilling, simply attach this kitchen towel bar on any standard cabinet door or drawer and move it easily.
DURABLE STAINLESS STEEL - We only choose the best and high-quality stainless steel to make our kitchen towel holder lightweight, durable, anti-rust, anti-stain, resistant to corrosion, and able to hold up to 22 lbs of weight.
VERSATILE DESIGN - Hang this towel bar outside or inside the cabinets to keep towels. Perfect addition in your kitchen & bathroom. It's also great for utility room, garages,laundry room, apartments, condos, cabins, RVs, campers and more
PERFECTLY SIZED - With the length of 14.17 inch and Non-absorbent foam helps protect cabinets from scratches, you can easily hang more than 2 towels on this over the cabinet towel bar. Save the space in your kitchen to give more room for your cooking routine. Hurry and place your order now!
Publisher: Kitchen Towel Bar
Details:
If you want the best quality and authentic KITCHEN TOWEL BAR (TM) just like what our customer say on the review, make sure you buy ONLY from TODAY'S DEAL STORE. Other are selling our copied products

Kitchen Towel Bar (TM)

You can start using a space saver and hassle-free towel hanger to eliminate the clutter on your counter top. This steel towel bar DO NOT REQUIRE ANY TOOLS FOR INSTALLATION, so your wall is away from drills!

Why use our over the door towel storage?
- Excellent kitchen space saver
- Can hold weight up to 22 lbs
- Easy to install on any cabinet doors
- The best towel rack for kitchen and bathroom!

Sturdy and Hassle-Free Over the Door Towel Bar - Guaranteed!

You can now save the space and hang your kitchen towel, pot holder, or any other on this towel rack holder. It can be easily attached on any standard cabinet door or drawer and move it easily. The soft foam on the back protects your cabinet from scratches and dings. Made of sturdy stainless steel, this towel bar holder is durable, anti-rust, anti-stain, resistant to corrosion, lightweight, and able to hold weight up to 22 lbs. It is an essential item to eliminate kitchen counter clutter and gives easy access to the hand towel. No more hanging your hand towel on the refrigerator handle or the oven, we're here to provide a leading product of dish towel rack bar!

What are you waiting for?
Hang your dish towels on our stainless hand towel bar. Click ADD TO CART Button now!

Specification:
Material: Stainless Steel
Length: 14.17 inches
Max Load: 22 lbs
Weight: 4.76 ounces
Color: Silver

(c) Kitchen Towel Bar (TM) - All Rights Reserved
EAN: 6892478378323
Package Dimensions: 14.9 x 8.1 x 1.6 inches