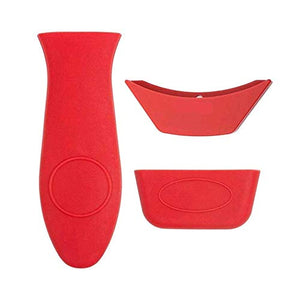 3 Pack Silicone Hot Handle Holder, Hot Mitts, Assist Holder Non Slip Heat Protecting Handle Cover for Cast Iron Skillets, Frying Pans & Griddles, Metal and Aluminum Cookware Handles (Red)
Regular price
$9.90
$0.00
- High quality silicone to protect your hands at the right time. Protection up to 450°F.
- Standard 5.9 ft. fits the handle of most branded cookware.
- Suitable for mothers, friends, parents, relatives, etc. as a holiday / housewarming gift.
- Thermal conductivity can still occur in silicone materials during prolonged heating. This is normal, but it still protects you from minimal security.
- -If there is any problem after purchase, we will solve the problem for you and provide the best after-sales servic. From AUKUZI
Protect your hands from hot pot handles with this slip-on handle mitt. handle holders externally coated with a scorch-proof coating. Inside, a thick terry lining adds further heat and steam protection.

Makes Cooking With Cast Iron Cookware Easy, Safe and Fun.

Highest quality cotton material available.
Premium-quality stitching will tolerate regular usage over a prolonged period .
You can have the Potholders on the whole time when cooking on the stove so you don't grab the cast iron by mistake.
Size: 5.9 inch, Opening 1.97 inch. Fits most brands.

If you have any questions, please contact us first, we will provide you with the best service and solve the problem ASAP.

AUKUZI Amazon ASIN B07FZYL8TM Home & Kitchen Kitchen & Dining , Kitchen & Table Linens , Potholders & Oven Mitts , Potholders