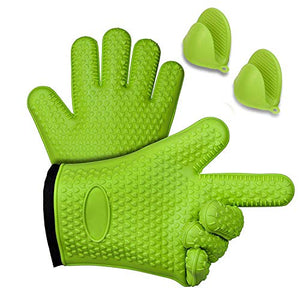 4 Pcs BBQ Grilling Gloves - Heat Resistant Oven Mitts for Cooking, Baking & Boiling - Safely Holds Hot Pots and Pans - Non-Slip Potholders with Internal Cotton Layer - Includes Mini Oven Mitt
Regular price
$10.49
$0.00
Silicone
THE BETTER GLOVES: For Ohequbao BBQ Grilling Gloves, merit comes from hard wearing, BPA Free Silicone and premium craftsmanship. This is what makes our high-caliber grilling gloves.
DESIGNED FOR PROTECTION:From our ergonomic design to our heat proof / steam proof and waterproof material every single part of our silicone gloves is designed with you in mind. Our multifunctional cooking gloves will be your primary protection from getting your hands burned when baking, cooking, grilling, frying and more.
UNIQUE BENEFIT: with the added benefit of non-slip and cotton dual-layer for optimal grip control, protection and comfort. Never worry about slipping hot pans, pods, steamy ovens, or falling dishes again.
MULTIPURPOSE:Whether you're baking turkey for Thanksgiving, cookies for Christmas, Barbecuing bacon, chicken, meat and other tasty recipes for the whole family, these gloves are the perfect kitchen companion. We also include a mini oven mitt for handling pot holders and plates.
100% SATISFACTION GUARANTEED: We offer 100% Satisfaction Guarantee. If for any reason you're not satisfied with our product, ship it back to us for a replacement or a full refund. The choice will be yours!
Enjoy A Superior Grilling | Baking | Cooking Experience with These Ultimate Silicone Gloves.The Primary Shield Protection From Smoking Hot Pots Cooking lovers are always trying new recipe ideas to impress their family and guest. While other silicone gloves are too heavy, traps heat, and claimed to protect your hands, Ohequbao Cooking Gloves are made of the highest quality silicone heat resistant material that withstand temperatures up to 430° degrees Fahrenheit with internal cotton layer to ensure a superior cooking/grilling/baking experience just like you always desire. Long Sleeve & Rope Design Sometimes when frying kitchen,beef,pork and any other meats,the hot pan splashes burning liquid that hurt your hands and arm;we design these cooking gloves with breathable cotton long sleeve that perfectly keep hot liquid off your hands,thus your hands and skin are protected until you finish up cooking completely. Great Gift Idea You can think of buying this set of BBQ gloves as a gift for someone special who loves cooking. Buy it as a gift for holidays, Thanksgiving, Christmas gift and any other special occasion. Package 2 PCS Grilling | Baking | Cooking Gloves
2 PCS Oven Pinch Mitts
Ohequbao Amazon ASIN B07FR13MPY Home & Kitchen Kitchen & Dining , Kitchen & Table Linens , Potholders & Oven Mitts , Oven Mitts