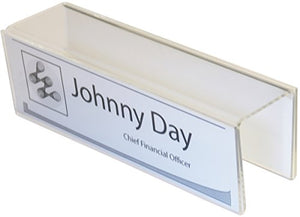 8-1/2" x 2" Double-Sided Cubicle Name Plate Holders - 8-1/2" Wide x 2" high x 2" deep Hook - PNH2085020020 (Single Pack) - Name Plates
Regular price
$9.95
$0.00
Fits easily over 2" Wide Cubicle or Partition Wall (NOTE; MEASURE YOUR CUBICLE WALL ACCURATELY TO ELIMINATE COSTLY RETURNS AND ERRORS. Email us for assistance in verifying your cubicle wall)
Our single pack purchase is designed for quality and size verification before placement of a larger order. Upon verification of proper fit, send an email "Contact Seller" to request credit for $9.95 for your next larger order. Limit one sample per customer.
.100 Thick Acrylic with Polished Edges
Re-usable; no tools or screws required.
1/16" opening for a customized 8-1/2" W x 2" H insert (EMAIL US FOR CUSTOM SIZE REQUEST)
Nothing highlights your staff in finer, individual style or spotlights important titles more effectively than Plastic Products Mfg's dynamic Cubicle Name Plate Holders.
Plastic Products Mfg Amazon ASIN B073R3LXVR Office Products Office & School Supplies, Education & Crafts, Desk Tapes & Nameplates