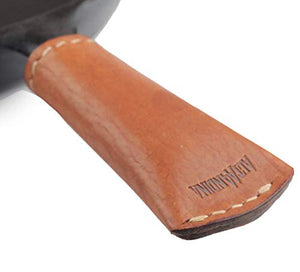 Alta Andina Leather Hot Handle Holder | Cast Iron Pot Holder | Full Grain, Vegetable Tanned Leather (Brown– Miel)
Regular price
$19.99
$0.00
Leather
HANDMADE: Handmade leather handle cover. Edges are hand burnished for a comfortable grip and a quality look and feel.
LEATHER POTHOLDER FITS ALL CAST IRON PANHANDLES: Designed for skillets from 8 to 15 inches. It's best to measure what's in your kitchen.
HAND STITCHED: Every seam is stitched by hand using thick, durable thread. Our full grain, vegetable tanned leather is heat resistant. NOT DESIGNED TO BE LEFT IN THE OVEN.
DIMENSIONS: 5.1 L x 2W inches The opening is 1.5 inches in diameter.
LIFETIME WARRANTY: Your hot pot holder is guaranteed for life from any manufacturing defects. We accept returns and exchanges. Contact us by going to your order page and sending us a message. We're here to help. PLEASE NOTE: The color of the leather may vary based on your screen settings.
CRAFTED IN THE ANDES

Alta Andina products are crafted by hand, using only natural and recycled materials. All our leather products feature naturally dyed, vegetable tanned leather. Our leather is 100% natural, it's better for the environment, leatherworkers, and you.

Vegetable Tanned Leather: Our vegetable tanned leather is made using Quebracho and Mimosa, natural tannins from trees native to South America. We never use chromium, a toxic, heavy metal used to make 90% of the world's leather.
Natural Aniline Dyes: Our colors come from natural aniline dyes, we never use paint or synthetic finishes on our leather.


We don't call our leather "genuine leather" – why not
Genuine leather is a misleading marketing term used to describe bottom of the barrel leather, and make it sound high quality. Saying genuine leather is real leather is like claiming fast food burgers are "100% real beef."


Alta Andina sources and manufactures everything in the Andes of South America. Every product sold helps us succeed in our mission to conserve the environment, traditions, and heritage of the Andes

Transparent Andean Supply Chain: We highlight each supplier and manufacturer of our local Andean supply chain on our website
Conservation: We are actively working to conserve Ecuador's threatened rainforests through our partnership with Whole Forest.
Mobility & Access: Alta Andina believes that the more we can connect people with the great outdoors, the better chance we have of preserving those natural spaces. We have secured funding for The World's Highest Altitude Trail at over 14,000ft accessible to individuals with all types of disabilities, located in the Cayambe Coca National Park in partnership with the Range of Motion Project and the Ecuadorian Ministry of Environment.

Read all the details of Alta Andina's environmental and social impact at our website.
Alta Andina Amazon ASIN B07JK679DR Home & Kitchen Kitchen & Dining , Kitchen & Table Linens , Potholders & Oven Mitts , Potholders