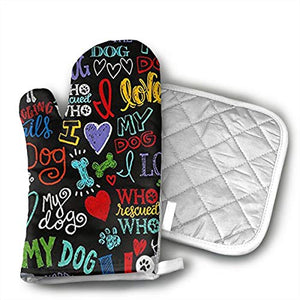 Animal Novelty I Love My Dog Oven Mitt 9 X 4 and Pot Holder 6 X 6 Kitchen Gift Set,Kitchen Oven Gloves for Cooking,Baking,Grilling,Barbecue Potholders - 2 Pair
Regular price
$0.97
$0.00
Heat Insulation Cushion Material:Terylene, Nylon
Size Of Heat Insulator Cushion:6 X 6"
Insulating Glove Material:Terylene, Nylon
KITCHEN COOKING SET: This Kitchen Cooking Oven Mitts Potholder Set Comes With Deluxe Cotton Quilted & Silicone Oven Mitts And One Pot Potholder. 9x4.2in Kitchen Oven Gloves And 6x6in Pot Holders For Better Kitchen And Cooking Use
The Inner Filling Insulation Cotton Is Evenly Distributed And Locked In Each Small Lattice That Is Sewn. Ensure This Oven Gloves Pot Holder Set Is Evenly Insulated And Durable.
This Heat Resistant Non-slip Oven Mitts Potholder Set Protect You From Being Burnt By The Hot Oil Splashing In Cooking, Not Being Burnt By The Freshly Baked Baking Sheet, Not Being Burnt By The High Temperature During Grilling And BBQ.\r\nThis Oven Mitten Pot Holder Set Is A Thoughtful Gift For Mother's Day, Birthday, College Dorms, Housewarming, Hostess, New Apartments, Christmas And New Year.
Gloves228 Amazon ASIN B07K5LR7DB