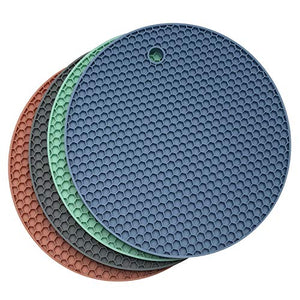 Axe Sickle 4pcs Trivet Mat Multipurpose Silicone Drying Mat,Silicone Pot Holders, Hot Pads,Silicone Heat Resistant Coasters,Cup Insulation Mat,Insulation Pad Potholders,Insulation Non Slip Mat.
Regular price
$9.99
$0.00
Flexible Durable and Thick Hot Pads for kitchen; the hot pot holder is thicker than most of the competitors with thickness of 0.3 inch; great protection for countertops and dining room tables; you need just one silicone trivet instead of stacking two or more; round is 6.9 inch in diameter.
Hot Pads for Cooking with Solid Design; they don't damage the surface underneath because they don't have holes like flower pot holders and don't leave marks on your dining tables or counters.
Multi-Purpose Square and Round Silicone Trivet Mats; they can be used for hot pots and pans; for instant pot; for pressure cooker; as a jar opener gripper; heat resistant placemats for kitchen counter; can be used between pots and pans protecting things from slipping; as a garlic peeler.
Hot Pads For Countertops Can Whitstand temperature of -40 F to 450 F (-40 to +230 degrees Celsius); taking things out of the oven is safe; can be used in microwave; they can handle anything from hot coffee to hot casserole dish.
Silicone Trivets for New Apartment Gifts; they can be used in modern Nordic style homes; perfect match for white or Scandinavian style furniture.
The hot pads for cooking are made from heat resistant silicone to protects surfaces from direct heat (withstands up 450 F ) Great for granite and quartz countertops, wood kitchen and dining tables.
Axe Sickle Amazon ASIN B075F9PHRD Home & Kitchen Kitchen & Dining, Kitchen Utensils & Gadgets, Kitchen Accessories, Trivets