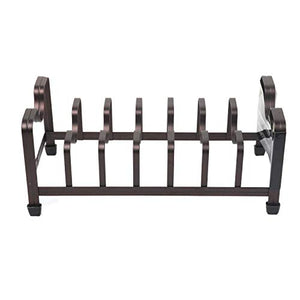 Berry Ave Kitchen Lid Rack for Pots, Pans, Cast Iron Skillets (7-Slot Holder) Heavy-Duty Stainless-Steel Craftsmanship | Convenient Storage and Organization | Multipurpose
Regular price
$14.97
$0.00
Versatile Kitchen Organization – A pot holder rack perfect for all types and sizes of lids, they work with cast iron skillets, roasting pans with racks, pots and pans.
Strong, Heavy-Duty Steel – The stainless-steel frame on our lid rack is rust and corrosion resistant, which means it can be used for drying wet or storing dry lids.
Compact, Vertical Storage – Each rack for pots and pans holds seven individual lids or cookware items to give you more storage options on your counter or in a cabinet.
Ergonomic Carry Handles – Along with optimal kitchen organization and storage these multipurpose racks feature wide-grip handles on either side for portability.
Unbeatable Berry Ave Guarantee – We take pride in every pots and pans lid holder we create and back it with responsive customer service and long-lasting craftsmanship.
Berry Ave Amazon ASIN B07L8PYP74 Home & Kitchen Kitchen & Dining , Cookware , Pot Racks