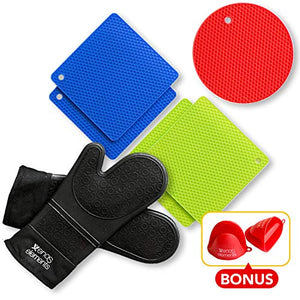 BONUS- 2 RED Pinch Mitt Holders| Silicon Oven Mitts and Pot Holders (7 Piece Set)- BLACK SILICONE OVEN MITTS|2 BLUE/2 GREEN SQUARE MATS|1 ROUND MAT 454 F Heat Resistant| Durable| Non-Slip
Regular price
$28.99
$0.00
Silicone
CONTAINS: -BLACK SILICONE OVEN MITTS (pair)- elbow length, soft cotton lining, fits Female and Male hands. -2 BLUE/2 GREEN SQUARE MATS - 1 ROUND MAT- honeycomb pattern for strong but flexible grip. BONUS -RED PINCH MITT POT HOLDERS (pair)- uniquely stretch and adapt to any sized surface
PERFECT GIFT: Need a gift Look no further! Give the Xenos Elements kitchen bundle to a loved one, family of friend or any aspiring chef who loves stylish comfort in the kitchen.
QUALITY: BPA-free, High-grade silicon. FDA-approved, Kitchen & Food safe. Heat resistant up to 454 F, durable, non-slip grip, Waterproof, and eco-friendly. Dishwasher safe.
EASY APPLICATION: Offers great protection when handling hot pots and baking trays. Trivets for hot, greasy dishes or use as a drying rack. Square mats for hard-to-open jars and cans.
WARRANTY: At Xenos Elements, we pride ourselves over the quality and functionality of our products. We guarantee 100% satisfaction and offer a 1 year warranty on all of our products.
At Xenos Elements, we made sure to cover all the bases for your needs when it comes to the protection of home & kitchen surfaces and handling of hot objects. Here's a tip - split this high value bundle into 2 or 3 compositions of thoughtful handy gifts. Use the nifty, transparent durable bag as storage for other items. Great for traveling. Not intended for extended periods of grilling and/or microwaving.
Xenos Elements Amazon ASIN B07CTQ86YH Home & Kitchen Kitchen & Dining , Kitchen & Table Linens , Potholders & Oven Mitts , Oven Mitts