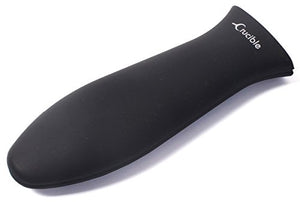 Crucible Cookware Silicone Hot Handle Holders (Black, Large)
Regular price
$6.97
$0.00
Silicone
Protect your hands from -104 ºF to 464 ºF (-40°C to 240°C)
5-5/8-inch by 2-inch. Opening H = 0.67" / 1.7 cm, W = 1.77" (4.5 cm). Smallest point width (the waist) 1.57" (4 cm). The Hot Handle Holder comes in different sizes please make sure this is the right size for your skillet handle.
Slide onto skillet handle
Dishwasher safe
Secure, comfortable and stable grip.
- Highest premium quality material available - You can have the silicone sleeve on the whole time when cooking on the stove so you don't grab the cast iron by mistake. The major advantage of having a removable silicone hot handle holder opposed to having a permanent protective handle cover on the skillet is that it enables using a cast-iron skillet in hot oven without ruining the handle. The silicone handle should be taken off the cookware when putting it into a hot oven. If used with gas stove, be extra careful so that the handle holder don't come too close to the flame which might ruin the handle cover. For a lesser size, please refer to the S-Size Silicone Hot Handle Holder, also included in the Set Of 3 and Set Of 5, all available on this page. Lifetime No-Hassle Free Replacement Guarantee!
Crucible Cookware Amazon ASIN B013ZTXF18 Home & Kitchen Kitchen & Dining, Kitchen & Table Linens, Potholders & Oven Mitts, Potholders