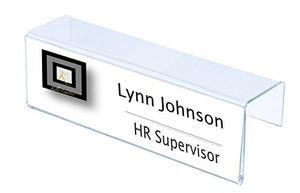 Cubicle Name Plate Holders 11" Wide x 2" high x 2" deep Hook - PNH110020020 (40 Pack)
Regular price
$231.60
$0.00
Fits easily over 2" Wide Cubicle or Partition Wall. Cubicle Name Plate Holders also known as Partition Name Plate Holders offer a high degree of visual acuity with 92% light transmission and such high clarity, that they can be seen from close up or from farther away. (NOTE; MEASURE YOUR CUBICLE WALL ACCURATELY TO ELIMINATE COSTLY RETURNS AND ERRORS. Email us for assistance in verifying your cubicle wall)
1/16" opening for a customized 11" Wide x 2" High name plate insert. (EMAIL US FOR CUSTOM SIZE REQUEST)
.100 Thick Acrylic with Polished Edges adds a touch of class and sophistication to the traditional name plate holder, recognizing the person behind the name as a valued and important part of your organization.
Re-usable; no tools or screws required and ready to use straight out of the box. They slide easily over cubicle walls without damaging the cubicle itself, also making these Name Plate Holders easy to re-use...no pins, tape, or Velcro required! Cubicle Name Plate Holders come in a variety of styles and sizes.
Same Day Shipping Available
Nothing highlights your staff in finer, individual style or spotlights important titles more effectively than Plastic Products Mfg's dynamic Cubicle Name Plate Holders.
Plastic Products Mfg Amazon ASIN B07215YTM8 Office Products Office & School Supplies, Education & Crafts, Desk Tapes & Nameplates