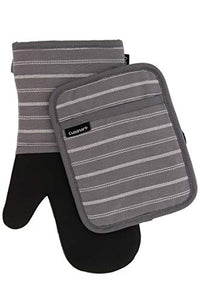 Cuisinart Neoprene Oven Mitts and Potholder Set-Heat Resistant Oven Gloves to Protect Hands and Surfaces with Non-Slip Grip, Hanging Loop-Ideal for Handling Hot Cookware Items,Twill Stripe Titan. Grey
Regular price
$13.98
$0.00
Neoprene
HEAT RESISTANT NEOPRENE OVEN MITT AND POTHOLDER SET - safeguard your hands from high heat with this Cuisinart cooking gloves and potholder set that are heat resistant up to 400 degrees F to help you safely handle hot kitchenware items from the oven or microwave. Potholders make perfect trivets for hot dishes too
GIVE YOUR HANDS THE GRIP THEY NEED - these kitchen oven gloves are equipped with a super strong and flexible neoprene gripping texture that prevents slipping and dropping. The oven mitt measures 13.5 inches x 6 inches. Pot holder is 9 inches x 7 inches
CONVENIENT TO USE DESIGN - these essential cooking accessories are durable and ergonomically designed with you in mind. Safely and confidently remove hot bakeware from the oven, a pasta dish or pan from the stove top, a soup bowl from the microwave or a hot food plate from the grill
EASY TO CLEAN & STORE – oven mitts and pot holders take a beating in the kitchen, so stains are inevitable. To care, simply hand wash and lay flat to dry. When you are done using them, simply store in any drawer or hang them on a hook via the convenient built-in loop
PROTECT YOUR HANDS – the oven mitt set pockets are lined with super soft cotton and premium insulation to keep your hands and fingers safe from heat, steam and grease – a perfect hand protector so no more worries of burning your skin. Makes an ideal gift
Whether you're an occasional baker or experienced chef, your oven mitts are the sole protective layer between your sensitive fingers and a super hot pan. Human skin can suffer severe burns in only fractions of a second, hence, a proper oven glove or potholder is an absolute necessity to ensure the safety of your hands and to provide comfort while taking your baked goods into or out of the oven.

The conveniently sized oven glove measure 13.5 inches in length and 6 inches in width and the potholder is an oversized 9 inches x 7 inches to protect hands from hot pans while saving precious kitchen drawer space. Designed to suit many décor styles, by hanging pot holders and oven mitts near your stove means they'll always be ready to use. There's nothing worse than scrambling to find a pair of pot holders buried in a drawer when you're trying to remove something from the oven quickly.

Insert your hands into the soft, cotton lined pocket and safely grip the hot dish with the flexible neoprene pads that are heat resistant to 400 degrees F. The neoprene side of your potholder will make the perfect trivets for hot pots and pans! The premium polyester fabric material provides pure protection and safe insulation. This set allows you to get a secure hold on the cookware you are carrying, so there's no risk of dropping your delicious lasagna.

This kitchen set isn't just for hauling casseroles out of the oven. In addition to handling hot cookware, these heat resistant gloves can be used for many other purposes. Grilling, tending a fire while camping, unscrewing a hot light bulb, or keeping hot dishes from burning a wooden surface such as a table, are all great times to whip out your oven glove.

These kitchen essentials are comfortable, durable and easy care – hand wash and lay flat to dry. They make a great Christmas or thanksgiving gift for the men and women in your life than enjoy cooking and baking at home.
Cuisinart Amazon ASIN B07HFHVFLM Home & Kitchen Kitchen & Dining , Kitchen & Table Linens , Potholders & Oven Mitts , Oven Mitts