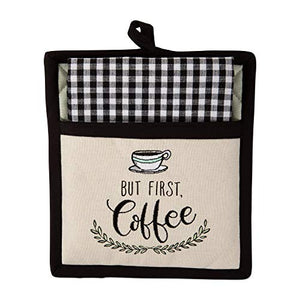 DII CAMZ11159 Cotton Pot Holder and Solid Dishtowel Gift Set, Machine Washable, Perfect for Everyday Kitchen Cooking and Baking, 9x8, 18x28, Coffee Time
Regular price
$8.90
$0.00
MUST-HAVE KITCHEN GIFT FOR HOLIDAY SEASON: Set include 1 Dish Towel 18x28" and 1 Pot Holder 9x8", meticulous accents make the towels set perfect decoration for your holiday kitchen
EASY CARE LONG-LASTING MATERIAL: 100% cotton which last long and can hold up to your washings, Machine washable and durable for daily use. Wash with Cold Water in Gentle Cycle & Tumble Dry Low
MIX AND MATCH WITH YOUR HOME DECOR: The festive design coordinate with most kitchen decor to add holiday joyfulness to your kitchen
GREAT GIFT CHOICE: Perfect gift for Christmas party, holidays, birthdays, housewarming and more
MORE DII KITCHEN DISH TOWELS OPTIONS: DII offers delightful Home and Kitchen products, for more options click the DII link at the top of the page.
"Create a Trendy and Adorable Kitchen With DII Pot Holder/Dish Towel Set
DII has built these pretty and well-made Dish towel & Pot Holder Gift Set for you to make an adorable kitchen. This kitchen set are perfect for cooking, baking, serving, or dinner party, they also make a great gifts for housewarming, summer BBQ party, Mother's day, birthdays, wedding shower or holidays.

Everyday Kitchen Essentials for a Starter
DII 100% cotton, Machine Washable 2-piece dishtowl and pot holder kitchen set, includes 1 Dishtowels 18x28"" and 1 Potholder 9x8"". These starter sets are perfect for the college student and first time apartment renter in your life. These starter sets are not only great for your first apartment or home but add these to your stash of camping gear & you can't go wrong!

Quality you can rely on
DII Dish towel and Pot Holder Sets are made of durable and comfortable 100% Cotton, pot holder is designed with your safety in mind and to shield hands from heat when cooking and handling hot pots and pans. These kitchen linen sets are heat resistant, protect your hands while handling hot pots, pans, dishes, casserole dishes, while dish towel is designed to tackle all the kitchen jobs to dry silverware, dishes and spatulas fast and easily. You can also use the towels to wipe off the water from fruit and produce after washing them.

Washing and Care Instructions
• Wash: Use Cold water, Color Separated; DO NOT use bleach
• Do not use fabric softner
• Dry towels in Tumble cycle to minimize shrinkage.
• May be ironed with low heat.

So Many Great Options
To view our entire selection of options search: DII Oven Mitts, Potholders or visit our brand page at amazon.com/dii for a full range of products."
DII Amazon ASIN B07J154M4H Home & Kitchen Kitchen & Dining , Kitchen & Table Linens , Dish Cloths & Dish Towels