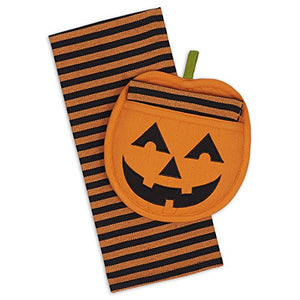 DII Cotton Haloween Holiday Dish Towel and Pot Holder Gift Set, Perfect for Kitchen Cooking and Baking-Jack O' Lantern
Regular price
$10.99
$0.00
100% Cotton
Imported
MUST-HAVE KITCHEN GIFT FOR HOLIDAY SEASON: Set include 1 Dish Towel 18x28" and 1 Pot Holder 9x8", meticulous accents make the towels set perfect decoration for your holiday kitchen
EASY CARE LONG-LASTING MATERIAL: 100% Cotton Fabric, Machine Washable. Wash with Cold Water in Gentle Cycle & Tumble Dry Low. Do not bleach them or run them through a hot dryer
MIX AND MATCH WITH YOUR HOME DECOR: The festive design coordinate with most kitchen decor to add holiday joyfulness to your kitchen
PERFECT GIFT CHOICE: The adorable design make this apron a great gift for Halloween Holidays, hostess or housewarming gift to coordinate with any kitchen for baking, cooking, serving, crafting, party and more.
MORE DII KITCHEN GIFT SET OPTIONS - DII offers delightful Kitchen Linens including dishtowels, dish cloths, aprons, potholders and oven mitts, for more options search: DII Gift Set or click the DII link at the top of the page.
100% Cotton
Get Ready for a Holiday Feast and Tackle Kitchen Works with DII Holiday Kitchen Gift Set DII Holiday Kitchen Gift Se are must-own kitchen essentials for every household. Dish Towels come tied in a set of Dish Towel and Pot holder which have a festive design which makes them perfect not only for holiday but also for everyday use. The Dish towel and Pot holder are functional and decorative, own a set to help you put up a Holiday joyful atmosphere in your kitchen. Great kitchen Essential for Ever day Use DII 100% Cotton Dish Towels are ultra-absorbent, durable and handy for mopping up in the kitchen or anywhere else a spill may occur. Fast drying towels produce minimal lint and are great for drying dishes and glasses, as well as for general kitchen duty. With each wash, these towels become more absorbent, helping to clean up even the biggest. DII Pot Holders are made of durable and comfortable 100% Cotton, quilted to offer durability and flexibility for a better grip on hot pots. Designed with your safety in mind and to shield hands from heat when cooking and handling hot pots and pans. These kitchen linen sets are heat resistant, protect your hands while handling hot pots, pans, dishes, casserole dishes and more. Quality you can rely on DII dishtowels are made with high quality 100% cotton with tight knit allow for less lint on your glass or plates. The perfect dishtowel for your daily kitchen use for holding up to your tough kitchen grease, dirt, food and more. The material and construction provides a long lasting dish towels/dish cloths that you can use over and over again. Washing and Care Instructions: Wash towels before first use. Towels will lose any lint remaining from the weaving process, and will become softer and more absorbent after washing. Wash: Use Cold water, Color Separated; DO NOT use bleach Do not use fabric softner (coats the cotton fibers causing towel to become less absorbent) Dry towels in Tumble cycle to minimize shrinkage. May be ironed with low heat. So Many Great Options To view our entire selection of options search: DII Dish Towels or visit our brand page at amazon.com/dii for a full range of products.
DII Amazon ASIN B076DYSX7G Home & Kitchen Event & Party Supplies, Decorations, Banners & Garlands