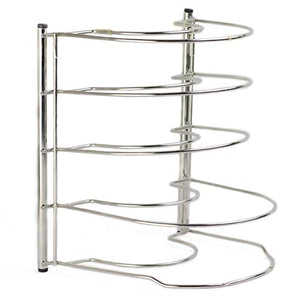 Ensteelo - Heavy duty Kitchen Pan Holder and Pot Organizer Rack | Made of high-grade Stainless Steel | Anti-slippery and anti-scratch silicone covers | No assembly required
Regular price
$19.99
$0.00
Sturdy pan holder and organizer to save space without damaging kitchen surfaces. No installation required.
5-TIER RACK: Conveniently has five slots to store all kinds of pots and pans.
Resistant and reliable. May be installed horizontally or vertically - on countertops or inside cabinets.
Made of Stainless Steel type 304, so it is resistant to corrosion, scratches and deformation. Easy to clean.
Satisfaction Warranty: if you are not completely satisfied with your purchase, we will refund your FULL purchase.
The ENSTEELO PAN ORGANIZER RACK keeps your pots and pans organized in a sturdy, elegant structure. It works perfectly in a horizontal or vertical position and does not require any type of installation.

Because of the Pan Holder's flexible and sturdy design, you can even fit a cast iron pan in it. You can also buy TWO and use one for your Pot Lids.

Made with the Best Materials
- 304 Stainless Steel gives the ENSTEELO PAN ORGANIZER RACK a modern look that matches most Stainless Steel Kitchen appliances.
- Best-in-class mechanical properties: it is resistant to corrosion, does not scratch or deform and it is very easy to clean.
- We have added anti-slip rubber pads to prevent scratches, so you can rest assure your kitchen surfaces are protected.
- Fine touches: we have gone the extra mile to ensure your pans and pots do not slip or get scratched taking them out of or putting them in the organizer with our unique anti-slip clear silicone covers. Keep the shiny look of Stainless Steel while protecting your pots and pans.

Dimensions:
Height: 12"
Width: 10"
Bottom Rack: 9.5"
Top Rack: 7.75"
Space between Levels: 3"
Ensteelo Amazon ASIN B07BHG1JKP Home & Kitchen Kitchen & Dining , Cookware , Pot Racks