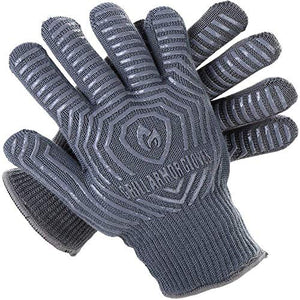 Grill Armor Extreme Heat Resistant Oven Gloves - EN407 Certified 500C - Cooking Gloves for BBQ, Grilling, Baking, Grey
Regular price
$25.95
$0.00
Highest heat resistant available up to 932°F, EN407 certified oven and grill gloves
Easy to clean, Machine washable with handy hook for hanging, Made from the highest quality materials that are made to last. Plus get a FREE E-Book gift with grilling tips and techniques!
All in one barbecue gloves, oven mitts or pot holders, Enjoy great success in the kitchen whether you're a professional chef, avid griller or an amateur home cook
Thick but lightweight and flexible with five fingers flex design and silicone super-grip, Easily grab a pizza stone or a Lodge cast iron and dutch oven hot handles, Perfect for handling hot stuff from the oven, microwave and instant pot
Insulated by M-ARAMID & P-ARAMID fabrics(same as Nomex and Kevlar), Will not catch fire or melt when exposed to an open flame, Easily handle the campfire, fire pit or fireplace. Money Back Guarantee!
Grill Armor Gloves Amazon ASIN B00ZORPCGG Home & Kitchen Kitchen & Dining, Kitchen & Table Linens, Potholders & Oven Mitts, Oven Mitts