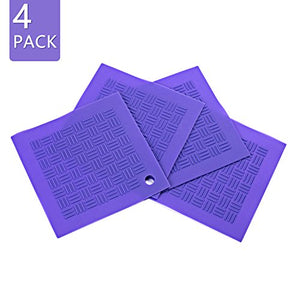 HCHUANG Silicone Pot Holder, Trivet Mat, Jar Opener, Spoon Rest and Garlic Peeler (Set of 4) Non Slip, Flexible, Durable, Dishwasher Safe Heat Resistant Hot Pads-Purple
Regular price
$9.99
$0.00
Super Safe Silicone - Our silicone trivets are food grade, BPA-Free approved silicone, non-slip, durable, flexible and insulated, safe to use in home and kitchen, they don't have a bad smell and will not fade
Safely & MULTIPURPOSE - These silicone trivets are heat resistant to 464°F, flexible and heat insulation enough to grab a hot pot or hot pan safely, brings you sense of security, multi-purpose use as pot holder, trivet, hot pads, coaster, jar opener and spoon rest etc.
Great Size & Practical - 4 pack silicone trivets, size is 6.5"*6.5"*0.12", large enough meet all the daily kitchenaid use needs, very practical, the design of stereoscopic stripes on the surface, non-slip, lightweight and soft
Dishwasher & Hung Design - Simply hand-wash or or put into the dishwasher directly for quick cleaning when it needs to be cleaned. roll it up or hang on hook.
PROMISE GUARANTEED - We promise that If you are not 100% satisfied with the this premium kitchen silicone pot holders set, we will unconditionally give you a full refund.

Silicone Pot Holder, 4 Pack Silicone Trivet Mat, Multi-Purpose Hot Pads, Spoon Rest, Jar Opener & Coasters Heat Resistant to 464°F, Non-slip, Insulation, Durable, Flexible Kitchen Trivets


4 PACK POT HOlDER


silicone trivets are food grade, BPA-Free approved silicone, non-slip, durable, flexible and insulated, safe to use in home and kitchen, they don't have a bad smell and will not fade, heat resistant to 464°F, flexible and heat insulation enough to grab a hot pot or hot pan safely, brings you sense of security, multi-purpose use as pot holder, trivet, hot pads, coaster, jar opener and spoon rest etc. 4 pack silicone trivets, size is 6.5"*6.5"*0.12", large enough meet all the daily kitchenaid use needs, very practical, the design of stereoscopic stripes on the surface, non-slip, lightweight and soft,Simply hand-wash or or put into the dishwasher directly for quick cleaning when it needs to be cleaned. roll it up or hang on hook.


Package Included:

Set - 4 Silicone Trivets
Colors - Blue* Purple* Green* Red
HCHUANG Amazon ASIN B07CJKTNMN Home & Kitchen Kitchen & Dining , Kitchen Utensils & Gadgets , Kitchen Accessories , Trivets