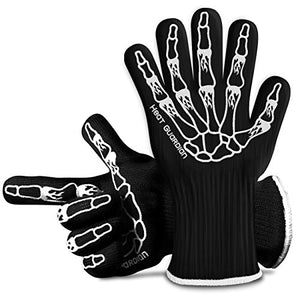 Heat Guardian Heat Resistant Gloves – Protective Gloves Withstand Heat Up To 932? – Use As Oven Mitts, Pot Holders, Heat Resistant Gloves for Grilling – Features 5" Cuff for Forearm Protection
Regular price
$15.99
$0.00
Versatile Hand Gloves: From removing pans from the oven to handling food on the grill, our Heat Resistant Gloves manage to withstand intense heat! Fast and convenient, they act as pot holders, heat trivets and even allow you to rearrange hot logs in the fireplace.
Hand and Forearm Safety: By providing a non-slip grip, our Heat Resistant Gloves allow you to handle a wide range of items without fear of dropping them. They also feature a 5" cuff, keeping your wrists and lower forearms protected from high temperatures!
Comfortable and Easy-to-Use: Strong enough to protect your hands, yet flexible enough to allow easy finger movement, these heat gloves provide a great fit and unmatched comfort! Simply slip them on and you're ready to handle just about anything.
High Quality Heat Resistant Material: What makes our Heat Guardian Heat Resistant Gloves BBQ, Oven, and Grill-friendly They're made of incredibly strong and durable materials that were specially designed and crafted to withstand heat up to 932 (500°C)!
Three Month Warranty: We strive to create practical, innovative products that our customers will love. If you're not completely satisfied with your Heat Resistant Gloves, simply let us know and we'll refund your order with our three-month warranty!
Heat Guardian Amazon ASIN B019VQ6BKG Home & Kitchen Kitchen & Dining, Kitchen & Table Linens, Potholders & Oven Mitts, Oven Mitts