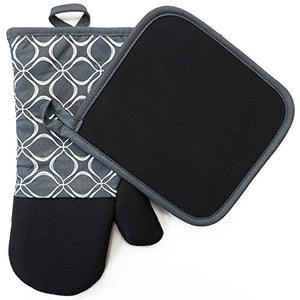 Heat Resistant Hot Oven Mitts & Pot Holders for Kitchen Set With Cotton Neoprene Silicone Non-Slip Grip Set of 2, Oven Gloves for BBQ Cooking Baking, Grilling, Machine Washable (Grey Neoprene)
Regular price
$14.99
$0.00
Silicone
ONE: 13" long,deluxe cotton quilted & terrycloth/terry cloth lining,professional oven mittens,providing a comfortable and soft grip for your home or restaurants baking.
TWO: Commercial grade heat resistant oven mitts(up to 500 degree F),protecting hand and forearm from hot dish,microwave oven racks or off the stove when indoor/outdoor BBQ grilling from high temperature.
THREE: No waterproof,easy to clean and machine washable,a must-have tool/everyday essentials in every kitchen,these definitely make a great Hostess,Housewarming,Christmas gift or even for a Bridal Shower.
FOUR: OM Size: 13" x 7" and PH size: 8x8",well insulated and better heat protection,one size fits all cotton quilted oven mitts,loop design for hanging hook storage,set of 2 oven mitts pot holder
High quality equals to high price No!
What you are buying today is excellent quality heat resistant oven mitt at an affordable price.
Sili-Mitts Silicone Oven Mitts are just what you've been waiting for!

.100% cotton and Neoprene .Cotton twill and neoprene pattern design,flexible and nonslip pot holders,100% FDA approved & BPA free,safe in touching food,neoprene palm on both sides for right or left handed use.Simply wash with warm soapy water, dry, and put away or hang them up using the conveniently attached loop. That's it!
Try it today 100% risk free, we guarantee your satisfaction or your money back!

To order your oven mitts for yourself or as a gift, simply scroll to the top and click the 'Add to Cart' above!
FERLLYMI Amazon ASIN B0796QSQVX Home & Kitchen Kitchen & Dining , Kitchen & Table Linens , Potholders & Oven Mitts , Oven Mitts