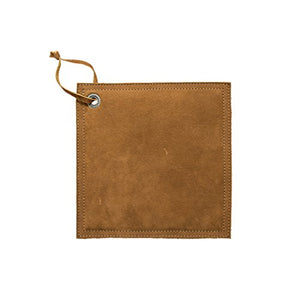 Hide & Drink Leather Hot Pot Pad (Potholder), Double Layered, Double Stitched and Handmade Swayze Suede
Regular price
$26.99
$0.00
DECORATIVE AND FUNCTIONAL HOT POT PAD: This beautiful, handcrafted and hand sewn Hot Pot Pad is the perfect addition to your kitchen, specifically designed to allow you to place hot pots and pans on any surface. It's tough exterior and Full Grain Swayze Suede Leather mean that it can withstand high temperatures to protect your kitchen surfaces, all the while retaining its shape and excellent quality.
UNIQUE AND ATTRACTIVE ADDITION TO ANY KITCHEN: Add a rustic, handmade accent to your kitchen with this eye-catching yet unassuming Hot Pot Pad. It's a classic and stylish way to protect your kitchen surfaces and will last you a lifetime. The Hot Pot Pad even features a Full Grain Leather strap so you can hang it up when not in use.
APPEARANCE IMPROVES WITH AGE AND USAGE: The high quality, full grain suede leather will assume a beautiful and eye-catching patina over time and after frequent use. Like everything with age, it will show both experience and beauty.
DURABLE DOUBLE LEATHER LAYER OFFERS PROTECTION AGAINST HIGH TEMPERATURES: The double stitched and double layered leather provides excellent insulation to prevent any heat passing through to your wooden kitchen table. Note that these Potholders are designed for levels of heat-proofing and protecting kitchen surfaces, they are not designed for wrapping around your pan's handle to protect your hands.
MAKES A GREAT GIFT FOR FOODIES AND PEOPLE THAT LOVE TO COOK: This is a great gift for your friends and loved ones who range from expert chefs in the kitchen, to novices who feel accomplished making spaghetti. Makes a great gift for a housewarming party, and even makes a fantastic gift to spoil yourself.
Hide & Drink Amazon ASIN B01CR4QUFK Home & Kitchen Kitchen & Dining, Kitchen & Table Linens, Potholders & Oven Mitts, Potholders