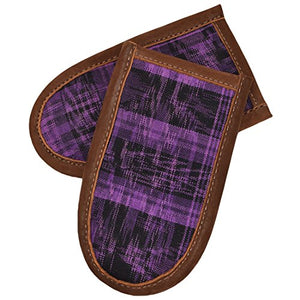 Hide & Drink Leather & Tipico Cotton Hot Handle Holder (Cast Iron Panhandle Potholder) Suede Interior Cook & Bake 2-Pack Handmade Tropical Purple
Regular price
$0.97
$0.00
Cotton
HANDMADE LEATHER HANDLE HOLDER WITH ATTRACTIVE TÍPICO TEXTILES AND SOFT INTERIOR FOR EASY INSERTION AND REMOVAL: Introducing the Hide & Drink Hot Handle Holder, an indispensable tool for the kitchen, adding some class and style to your Skillet pan while preventing any nasty burns.
DURABLE DOUBLE LEATHER LAYER OFFERS PROTECTION UP TO 450-DEGREES: The double layered leather provides excellent insulation to prevent any burns as you take the Skillet off the fire, giving you a protection against high temperatures. Note that these Rustic Leather Pan handles are designed for levels of heat-proofing, they are not fireproof – do not place in the oven.
2-PACK - FITS ALL CAST-IRON SKILLETS: Designed to fit all Skillets, but to avoid any disappointment please consult the dimensions/measurements provided. Each purchase includes 2 of these Hot Pan Handle Holders.
UNIQUE AND ATTRACTIVE ADDITION TO ANY KITCHEN: Add a rustic, handmade accent to your kitchen with this eye-catching Pan handle Cover, it's the only way to spruce up your cast-iron pans. Handmade with Mayan Tipico Backstrap Loom Textiles native to the land of Central America, this Handle Holder contains a rich history and limitless beauty. Combined with the extremely durable and sturdy Full Grain Leather, this cooking accessory is the perfect way to show off your personality in the kitchen.
MAKES A GREAT GIFT FOR FOODIES AND PEOPLE THAT LOVE TO COOK: This is a great gift for your friends and loved ones who range from expert chefs in the kitchen, to novices who feel accomplished making spaghetti. Makes a great gift for a housewarming party, and even makes a fantastic gift to spoil yourself, you deserve it after years of 3rd degree burns to your hands.
These handcrafted, heat-resistant Típico Textile Panhandle Covers are designed to fit cast iron or metal handled pots and pans, for the chef who has it all. This stylish addition will add some flair to the kitchen, handcrafted with soft leather on the interior,and backstrap woven Típico Textiles from Guatemala on the exterior. The Panhandle will fit on seamlessly, and the tough Full Grain leather will protect your hands in style from temperatures up to 450 degrees. This unique product will make a perfect gift for all foodies and chefs!

All Hide & Drink leather products are handmade from rustic, durable, Full Grain Leather. Our Full Grain Leather comes from the top layer of the hide, and has all the natural full grain characteristics of the hide...hence the name. It's the best leather you can buy and the only leather that we use.

The flesh side of the soft leather is first stained with natural drab tone and finished with our proprietary beeswax conditioner. Our unique treatment helps the leather to retain its shape without the aid of synthetic stabilizers, offering a natural and durable look.

Product Features

All of our Pan handles are crafted by hand with high quality materials, giving the perfect touch to all skillet pans


The Pan handle will protect your hands from extreme temperatures, keeping you safe from harm


Will comfortably fit your Skillet handle with no worry of slipping or movement

Hide & Drink is a vertically integrated community-driven brand dedicated to support the local community in La Antigua, Guatemala. Our product is designed, sourced, and manufactured by local artisans for the benefit of local residents. Our wages are fair and we emphasize for-profit development through entrepreneurial education. In addition to creating jobs through the manufacturing and sale of our products, we contribute 5% of our Gross Profits to outstanding non-profit organizations in Guatemala.
Hide & Drink Amazon ASIN B07CT218X7 Home & Kitchen Kitchen & Dining , Kitchen & Table Linens , Potholders & Oven Mitts , Potholders