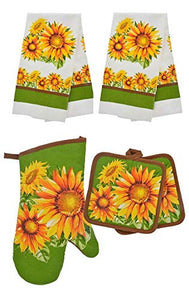 HomeConcept 5 Piece Kitchen Towel Set Includes 2 Towels 2 Potholders 1 Oven Mitt (Sunflower)
Regular price
$11.95
$0.00
2 Kitchen Towels 15"x25" perfect to brighten any kitchen, these themed towels are meant to be washed and dried.
2 Square Quilted Potholders these theme designed hot pads are rated at 350 degrees. They work perfect as a trivet on your table as well.
1 Quilted Oven Mitt rated at 350 degrees, themed and printed to match the rest of the set.
All items are machine washable and actually become softer with a few washes, these items are made in china
2 Kitchen Towels 15"x25" perfect to brighten any kitchen, these themed towels are meant to be washed and dried.

2 Square Quilted Potholders these theme designed hot pads are rated at 350 degrees. They work perfect as a trivet on your table as well.

1 Quilted Oven Mitt rated at 350 degrees, themed and printed to match the rest of the set.

All items are machine washable and actually become softer with a few washes, these items are made in china
HomeConcept Amazon ASIN B07GL5XBMP