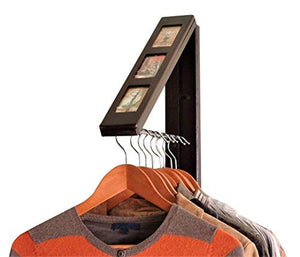 InstaHANGER Picture Perfect Closet Organizer, The Original Folding Drying Rack, Wall Mount
Regular price
$47.48
$0.00
GREAT FOR ORGANIZING YOUR SPACE: We're dedicated to creatively organizing great spaces and small places! That's why we made the InstaHanger: the original collapsible drying rack. It will maximize existing closet space. Finally, you can step inside your closet without tripping over clothes! The InstaHanger is great for the laundry room or utility closet. You can use it on your boat or in your RV.
AIR-DRY YOUR LAUNDRY: Air-drying your clothes is an excellent way to preserve the integrity and durability of the fabric. However, finding a spot to air-dry your clothes can be difficult. With the original InstaHanger, we solve that issue for you. It includes a handy metal rack that can accommodate several hanging articles of clothing. Keep your clothes in pristine condition using the InstaHanger!
MADE FROM STRONG, STURDY MATERIAL: This clothes holder holds up to 50 lbs of weight. That's because the mount is made from heavy-duty solid Pine and the rod is made from durable chromed steel, allowing it to hold a considerable amount of weight.
EASY TO ASSEMBLE: The original InstaHanger comes with easy-to-follow instructions, including a full-size marking template to ease installation. You'll get 2 white hollow wall anchors for 1/2-inch drywall and 2 yellow masonry anchors for brick or concrete walls. You'll also receive 2 Philips 2-inch wood screws that can be used with anchors or placed straight into wood walls.
DIMENSIONS: When closed, the original InstaHanger measures at 18" H x 3" W x 2" D. When the InstaHanger is opened, it measures 18" H x 3" W x 15" D. You'll get 12" of hanging space with the InstaHanger. Its rod has a diameter of 1/4". When the InstaHanger is unfolded, it creates a triangle shape, which is the strongest shape known to man.
InstaHanger Amazon ASIN B002OJFX7U Home & Kitchen Storage & Organization, Clothing & Closet Storage, Clothes Hangers, Standard Hangers