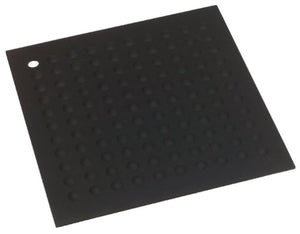 Lamson Big HotSpot Pot Holder/Counter Protector/Large Trivet, 11.5" x 11.5", Black, Silicone
Regular price
$14.04
$0.00
Constructed of the highest quality FDA kitchen approved, medical grade silicone, BPA free, and dishwasher safe.
The 11.5" x 11.5" super flexible silicone is easy to store or hang utilizing the corner hanging hole.
The Big HotSpot Potholder is slip and skid resistant and can be used under mixing boards and cutting boards to keep them from sliding during use.
Used in Professional Kitchens through out the world.
All HotSpot and silicone products have a 1-year limited warranty to be free from defective material and workmanship from the time of purchase.
Functions as trivet, pot holder, anti-slip pad for mixing bowls, jar opener, garlic peeler
Measures 11-1/2 by 11-1/2 inches square
Constructed of flexible, slip-resistant silicone
Heat-resistant to 675 degrees F
Dishwasher-safe
Lamson cutlery, kitchen tools and trade tools are still handcrafted in Massachusetts by American workers. We are proud to say that after 179 years, Lamson still produces the finest cutlery, kitchen tools and trade tools made in America that aim at nothing short of perfection. Lamson was established in Shelburne Falls, Massachusetts in 1837. As one of the oldest cutlery manufacturers in the United States, Lamson has been the choice of home and professional cooks as well as US Presidents for the last 179 years because of its high standard of craftsmanship. These traditions are true today not only in our cutlery and kitchen tools but in our barbeque equipment, TreeSpirit (Handcrafted North American Hardwood Kitchen Utensils and Wood Care Products) and HotSpot ( Professional Grade Silicone Potholders, Trivets, HotHandles) products.This silicone countertop cover offers a resting spot for hot pots to keep Formica or Corian safe from melting or blistering. However, it also protects counterops from scratches; prevents mixing bowls and cutting boards from sliding during use; and functions as a pot holder, jar opener, and garlic peeler. Measuring 11-1/2 by 11-1/2 inches square, this trivet provides a large surface area that can fully cover the bottoms of most round or square casserole dishes. The silicone material is heat-resistant to 675 degrees Fahrenheit so heat wont transfer through the cover and a patterned surface keeps the trivet from slipping or sliding on any counter surface. This counter cover is flexible enough to roll up and store compactly in a drawer or has a hole in one corner to hang from a hook. This product is dishwasher-safe.
Hotspot Amazon ASIN B0000E2GO6 Home & Kitchen Kitchen & Dining, Kitchen Utensils & Gadgets, Kitchen Accessories, Trivets