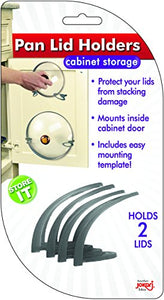 Lid Holder, Pot, Pan & Dish Lids - Fully Adjustable Wall Mount Design Organizes Tops on The Back of Any Cabinet Doors, Best Storage Solution for all Dish Covers in Your Kitchen 2 Pack Holds 2 Lids
Regular price
$9.99
$0.00
STORE AND ORGANIZE: Never search through a stack of lids again. This holder mounts inside any cabinet door for easy placement and storage
FITS MOST LIDS: Our adjustable design means you can fit to almost any lid size. Small or large, our lid holders are durable and stable
EASY TO INSTALL: Includes screws and mounting template. Requires only 5/8" cabinet thickness to install, we havent met a cabinet yet that couldnt use this product!
PROTECTS FROM STACKING DAMAGE: Keeps lids from scratching each other, chipping or getting dinged up.
SATISFACTION GUARANTEE We are so certain you will love it, that we offer a 30 day money back guarantee on all Jokari products. Join our family of Jokari loving customers.
Tired of searching through a stack of messy lids to find the one you need This lid holder is designed to easily mount inside a cabinet door and hold your lids without taking up valuable shelf space. Use it for any lid in your kitchen, the adjustable mount means you can size it for big or small lid covers.
Jokari Amazon ASIN B079XSHMSN Home & Kitchen Kitchen & Dining , Storage & Organization , Cabinet & Drawer Organization , Pot Lid Holders