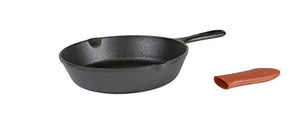 Lodge Cast Iron Skillet with Red Mini Silicone Hot Handle Holder, 8-inch
Regular price
$13.69
$0.00
Cast iron provides superior heat retention and is unparalleled for even cooking
Cast Iron Skillet is seasoned with vegetable oil for a natural, easy-release finish that improves with use
Easy care: Hand wash, dry, rub with cooking oil
Skillet is 8 inches in diameter and includes red silicone hot handle holder
Made in USA, Lodge Cast Iron Skillets are at home in the oven, on the stove, on the grill or over the campfire. Works great with induction cooktops.
Seasoned with oil for a natural, easy-release finish that improves with use
Easy care: hand wash, dry, rub with cooking oil
The right tool to sear, sauté, bake, broil, braise, fry or grill
At home in the oven, on the stove, on the grill or over the campfire
Great for induction cooktops
Brutally tough for decades of cooking
Unparalleled in heat retention and even heating
The Lodge Cast Iron 8-inch Skillet and Red Mini Silicone Hot Handle Holder is a multi-functional cookware that works wonders with slow-cooking recipes and all your favorite foods. This pre-seasoned Skillet works like a charm right out of the box. Pancakes, eggs, and bacon somehow taste extra hearty when cooked in a heavy cast-iron skillet. Cast iron creates superior heat retention, heats evenly, and loves a campfire, unlike flimsier pans. Fry up a mess of catfish, roast chicken, or bake an apple crisp in this 8-inch pan that features a sturdy handle for heavy lifting, and two subtle side lips for pouring. While the skillet comes pre-seasoned to prevent food from sticking, it works best when sprayed or lightly coated with vegetable oil before use. The Lodge seasoning procedure is a multiple-step process in which the seasoning oil is applied via an electrostatic spray system that coats the cookware, then it's baked in commercial ovens at very high temperatures. This allows the oil to penetrate deeply into the pores of the iron.
Lodge Amazon ASIN B00WTSCY0U Home & Kitchen Kitchen & Dining, Cookware, Pots & Pans, Skillets