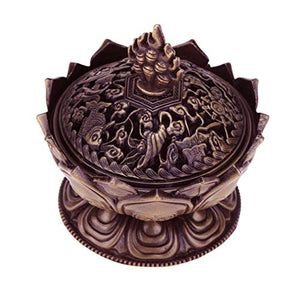 Secret for Longevity Copper Bronze Antique Chinese Asian Style Lotus Flower Incense Burner Pot w/Stick Cone Coil Holder w/White Sage Cones Zen Buddha Buddhist Meditation Decor Gift Set
Regular price
$25.99
$0.00
Copper Bronze Antique Chinese Asian Style Lotus Flower Incense Burner Pot w/ Stick Cone Coil Holder w/ White Sage Cones Zen Buddha Buddhist Meditation Decor Gift Set
Multi-function: It can be a great decorative art piece, or an incense burner for religion or meditation purpose. Very nice house warming gift!
Can use with stick, small coil or cone incense. Comes with one box (10 cones) of White Sage incense cones as pictured
Incense pot will catch ash from stick, cone or small coil making for easy clean up.
Incense Lotus Pot measures 2.75" inches diameter across and 3" inches tall with the lid on.
MULTIFUNCTION: Suitable for a varity of incense types, it applies to stick incense, conical incense, spiral, joss-stick, taper incense, pancake incense etc, very practical MUCH BENEFITS: Burning incense can bring you many benefits, such as aid-sleeping, refreshing air, calming the nerves, focusing the attention, relieving fatigue. Also the good decoration for your living room, temple, office, hotel, tea house, yoga studio and more!
Secret for Longevity Amazon ASIN B07FCSLZ1P Home & Kitchen Home Décor , Home Fragrance , Incense & Incense Holders , Incense Holders