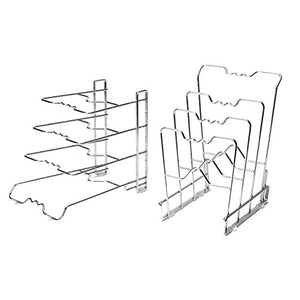 Seville Classics 4-Tier Pan & Pot Lid Rack Kitchen Counter and Cabinet Organizer, 2 Pack Chrome
Regular price
$24.99
$0.00
Smart Pot & Pan Storage - Each rack features 4 dividers giving you 8 tiers per pack. Use together or separate to organize lids for stock pots, and covers for other containers and cookware.
Horizontal or Vertical - Set-up with horizontal dividers for storing pans and plates, or set up with vertical dividers for storing cookie sheets and muffin trays.
Kitchen Countertop & Cabinet Essential - Easily upgrade your home kitchen cupboards with these pre-assembled dish racks. Non-slip feet keep each unit stable on slick and wet surfaces.
Includes Bonus Rack - Set includes 2 organizer racks for more storage your way. Use them together or separate. Store up to 20 lbs. per unit evenly distributed per tier.
Dimensions - 8. 5" W x 12" D x 9. 9" H
Reduce the clutter in your kitchen with Seville Classics 4-tier pan organizer rack. This set includes two racks to make organizing pot lids and covers easy. Adjust the position of each divider as desired for more space between tiers to fit larger or smaller cook wares. Racks are engineered from commercial-grade steel and finished in chrome for resistance to corrosion in dry environments. Each tier is a different height (8", 9. 25", 10. 25" and 12") to accommodate full sets of cookware. Use vertically or horizontally, together or separate. Our racks are ideal for protecting (from scratching each other) varying sized lids, pans, skillets, cookie sheets, and cutting boards. Non-slip feet keep the unit stable on hard and slick surfaces like wet countertops. Includes 2 racks Commercial-grade steel constructions 4 dividers at different heights (8", 9. 25", 10. 25" and 12") Chrome finish Specifications Dimensions: 8. 5" W x 12" D x 9. 9" H (each)Weight capacity: 5 lbs. per tier, 20 lbs. overall Weight: 1. 7 lbs. (each)Model #: SHE14108BWhat's in the Box2 pan organizer racks
Seville Classics Amazon ASIN B01DAKUUR4 Home & Kitchen Kitchen & Dining, Storage & Organization, Cabinet & Drawer Organization, Pot Lid Holders