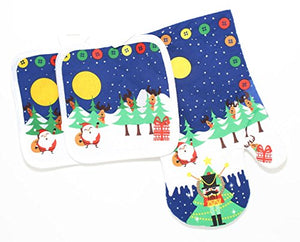 SILVER ONE Blue Star Clothing 3 Piece Set Christmas Holiday Printed Kitchen Quilted 100% Cotton Oven Mitt & 2 Pot Holders | Heat/Flame Resistant Mitten Glove
Regular price
$0.97
$0.00
BLUE STAR CLOTHING XMAS QUILTED MITTEN - Ugly holiday sweater party And want to cook up something great for the family and want to be festive at the same time Get yourself one of our holiday X-MAS mit glove and pot holders. Comes in all different patterns for you to enjoy the hoidays in the kitchen.
STYLISH & UNIQUE - Super high performance extra long heat resistant gloves provide maximum protection for your hands and forearms when cooking, highest heat resistance up to 350° F /176° C, The glove measures 12" in length and the pot holder measures 7" in length. Also comes with hanging hooks for easy storage and hook.
PREMIUM QUALITY - Heavy duty soft 100% cotton fabric layered oven mitts allows you to wear them comfortably and easy to maneuver, suit for all size hands. Oversized sleeve covers most of the forearms, provide protection for your forearms as well.
GREAT CHRISTMAS HOLIDAY GIFT IDEA - These attractive mitt and pot holders make a great gift for him or her! Once you have tried them for yourself you will love to give it as a gift to your family member and friends! You'll be the hit of the party before it even starts!
CARE INSTRUCTIONS - Machine Wash Cold with Like Colors. Tumble Dry
BLUE STAR CLOTHING XMAS QUILTED MITTEN
- Ugly holiday sweater party And want to cook up something great for the family and want to be festive at the same time Get yourself one of our holiday X-MAS mit glove and pot holders. Comes in all different patterns for you to enjoy the hoidays in the kitchen.

STYLISH & UNIQUE
- Super high performance extra long heat resistant gloves provide maximum protection for your hands and forearms when cooking, highest heat resistance up to 350° F /176° C, The glove measures 12" in length and the pot holder measures 7" in length. Also comes with hanging hooks for easy storage and hook.

PREMIUM QUALITY
- Heavy duty soft 100% cotton fabric layered oven mitts allows you to wear them comfortably and easy to maneuver, suit for all size hands. Oversized sleeve covers most of the forearms, provide protection for your forearms as well.

GREAT GIFT IDEA
- These attractive mitt and pot holders make a great gift for him or her! Once you have tried them for yourself you will love to give it as a gift to your family member and friends! You'll be the hit of the party before it even starts!

CARE INSTRUCTIONS
- Machine Wash Cold with Like Colors. Tumble Dry
SILVER ONE Amazon ASIN B07C514XWQ Home & Kitchen Kitchen & Dining , Kitchen & Table Linens , Potholders & Oven Mitts , Oven Mitts