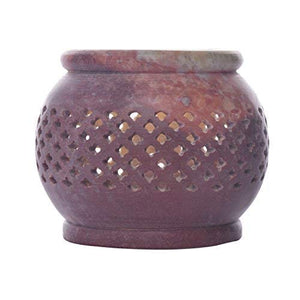 storeindya Diwali Decorations Hand Carved Tealight Holder Sphere Shaped Made from Soapstone Floral Decorative Lantern Decorate with This Amazing Tea Light Holder (Design 6)
Regular price
$8.49
$0.00
Dimensions : Length – 3 inches X width - 3 inches X Height - 2.5 inches
Hand carved out of soapstone renowned for its natural appeal and durability.
This pot-shaped T-light holder is carved with an intricate mesh pattern, which casts lovely shadows when lit.
It is also easy to wipe stains with a cloth rag or sponge because its non-porous. Please make sure to wipe the top portion only after the holder has cooled down.
Its naturally occurring color variations add a touch of exclusivity to your home when placed on your shelf, table, nightstand, or temple. By purchasing this product from Store Indya, you will help sustain the 1,000 year traditions of handmade artistry of ethnic artisans living off the heartland of India, as we will donate 10% of our profits to train a new generation of artisans with modern techniques of craftsmanship.
Store Indya present you a lovely pot shape T-light holder. Now, give your home and interiors a natural illuminating glow with this beautiful, handmade tea light holder. It is apt for both scented and odorless votives. A great addition to any decor all year round: from lining the outdoor patio, gallery or dining table during summer months to making a house feel extra cozy during the chilling winter nights! This tea light holder safely shields the flame of your votive from spills and hot wax. The durable quality and practical design makes this piece ideal for restaurants, weddings, parties and events. Invest in this small wonder to create a warm subtle glow that awakens the senses and brings a flattering, mellow ambience to your space.
storeindya Amazon ASIN B079W669S4 Home & Kitchen Home Décor