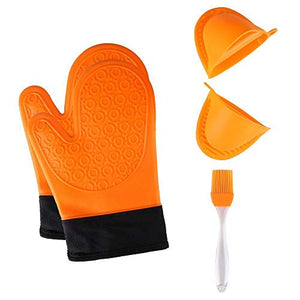 TOPBRY 041603 Heat Resistant Silicone Oven Gloves Non-Slip(1 Pair) for Kitchen Grilling Cooking and Baking& 2 Free Bonus Items-Brush & Pot Holder (Orange), 28 x 17 x 2.8 cm,
Regular price
$9.99
$0.00
safe material : oven & grill glove's exterior is food grade FDA approved, BPA free, interior is woven cotton provides softness and added protection, Safe for you and your family.
heat resistant protection 100% cotton padded liner for extra Comfort and easy to get on & off. Premium quality thick cotton layered and silicone mitts design, Extremely safe handling of hot items.
non-slip grip waterproof - each of our silicone Gloves Comes with patterned gripping surfaces to reduce the risk of accidents. Never again worry about slipping plates, hot pans or steamy ovens, lets you work with food in hot water or oil.
use comfortable; extra protection for your hand and wrist - oven gloves designed with quilted cotton lining for comfort Use & cover your wrist.
healthy life non-toxic, without bad odor, not sticky, non-slip, waterproof design, Perfect gift in your kitchen life.
Specification: name: silicone oven gloves Quantity: 1 pair (2pcs) colors available: Blue, Green, Orange, Red material: thicken silicone + cotton Dimensions: 28 x 17 x 2. 8 cm Item Weight: 263 g features: these gloves are made of silicone that is heat resistant to 250 degrees. With most domestic oven gloves reaching temperatures of 240 Degrees they shield you from heat and offer excellent protection! not only are these gloves Heat Resistant, thanks to the non-porous nature of silicone They are also water proof meaning you are no longer at risk of getting scalded by steam or burnt by heat passing through wet oven mitts. the gloves feature a luxurious brushed cotton lining. The lining provides an extra layer of heat resistance and a comfortable fit. silicone is naturally non-slip and the gloves feature a patterned surface - combined with the five finger design results in a glove that will let you be confident that you are holding pots, pans, trays, etc. Securely. the gloves are non-porous, stain-proof and odor resistant. Rinse them under the tap or pop them in the washing machine at 40C and lay flat to dry naturally without spinning. Package includes:      1 x TOPBRY silicone oven gloves (1 pair)    1 x pot holders pair)    1 x Brush choose TOPBRY, Enjoy healthy life!
TOPBRY Amazon ASIN B06WRVZ1V6 Home & Kitchen Kitchen & Dining, Kitchen & Table Linens, Potholders & Oven Mitts, Oven Mitts