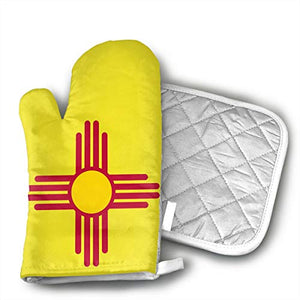 TRENDCAT New Mexico Flag Oven Mitts and Potholders (2-Piece Sets) - Extra Long Professional Heat Resistant Pot Holder & Baking Gloves - Food Safe
Regular price
$14.00
$0.00
Poly-cotton
SUPERIOR SAFETY LENGTH:With two lengths available (Potholders:7.9 and 7.9inch Oven Mitts :11.8 and 5.5inch), our heat-resistant cooking gloves better protect fingers, hands and wrists from burns.
POLYESTER COTTON AND NYLON:Each piece is crafted with flexible, Polyester cotton and nylon, making them ideal for moving or holding hot pans, plates, utensils or dishware.
GREAT DESIGN AND HIGH QUALITY:11.8 inch length protects wrists and forearms; all materials are BPA free; Polyester cotton and nylon for maximum flexibility and maximum heat protection; soft and super comfortable interior
HEAT RESISTANT UP TO 480 DEGREES:Whether removing a pan from your oven, picking up a steaming pot from your stove or tending to a hot grill, you can rest assured that your hands and forearms will be well protected by these high quality, heat-resistant oven mitts.
COMPLETE KITCHEN COOKING SET:This unique accessory set comes with one insulated Polyester cotton and nylon oven mitts and one Polyester cotton and nylon Potholders for better kitchen and grill use.buy these oven mitts now! Look no further, click add to cart. Youfll be happy you did
Color:pattern
Size:Potholders:7.9 and 7.9inch Oven Mitts:11.8 and 5.5inch
Optimal protection without sacrificing flexibility

TRENDCAT Professional Polyester cotton Oven Mitts give you extra protection from burns and scalds during all of your cooking activities. At 11.8'' inches long, and boasting a soft, quilted liner, the TRENDCAT Polyester cotton Mitts prevent steam scalds while cooking on the stovetop or draining boiled pasta. Our mitts are heat-resistant to 450 degrees Fahrenheit so they will also spare tender forearms from burns that can occur when your outdoor grill experiences a flare-up. Our commercial-grade Polyester cotton oven mitts are ideal for all of your baking, grilling and cooking needs.

TRENDCAT prides itself on it's exceptional customer service and satisfaction. We stand behind the durability and superior function of all TRENDCAT products with our 100% Satisfaction Guarantee.

Enhance your cooking enjoyment and protect yourself from painful burns and scalds by adding the TRENDCAT Professional Polyester cotton Oven Mitts to your cart today
TRENDCAT Amazon ASIN B07K48YY8X Home & Kitchen Kitchen & Dining , Kitchen & Table Linens , Potholders & Oven Mitts , Oven Mitts