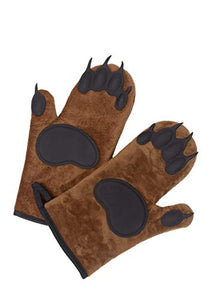 William's Cooking Bear Oven Mitts with Pot Holders
Regular price
$14.99
$0.00
Silicone
HIGH QUALITY: Measuring 12-Inches (29cm) long with insulated cotton and polyester, these silicone oven mitts are built to last, designed to be comfortable, usable and fun!
NON-SLIP GRIP: The paws are not only for the looks, they are non-slippery and heat resistant as well, making sure you have the best grip while holding hot or slippery objects.
HEAT RESISTANT: With the silicone paws and the insulated cotton inside, this is the funny oven mitts set you wished you had bought years ago.
ONE SIZE FITS ALL: These cooking mitts have a great fit for everyone, making them usable for both man and woman.
LOTS OF FUN: Do you want to have a big smile on your face, every time you take your favorite dish out of the oven Then these cute oven mitts are perfect for you!
Oven mitts:
The WILLIAMS COOKING Bear Hands Oven Mitts are made from durable insulated cotton with heat resistant silicone paws to protect your hands in the kitchen. These bear gloves give you the best protection while also looking great. These fun oven mitts are a must have for every cook and they make great presents for friends, family or acquaintances.

NOW INCLUDING TWO ADDITIONAL POTHOLDERS

Features:
Added Protection: Protect your hands when grabbing hot items from the oven or bringing pots to the table. The pads are heat resistant, so you can hold your hot lasagne without any trouble.
Funny looking: When not used for hot items, they will put a smile on everyone's faces.
Left and Right hand included: Do not worry about being left or right-handed, you will receive two oven mitts.
Easy Care: In case they get dirty, only wash them by hand. Do not put them into the washing machine, since it could defect the heath resistance.
Heat Resistant: Extreme temperature protection up to 500 degrees Fahrenheit.

Measurements: 12 inches long (29 centimetres)
William's Cooking Amazon ASIN B07JPJM4GV Home & Kitchen Kitchen & Dining , Kitchen & Table Linens , Potholders & Oven Mitts , Oven Mitts