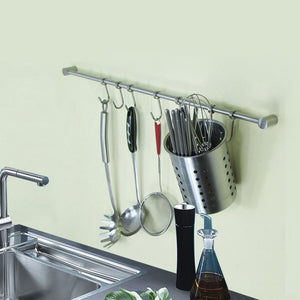 Sumnacon Pot Pan Rack with 7 Hooks, Solid Stainless Steel Rail Kitchen Cookware Utensil Pot Rack Hooks Hanger, 15 Inch Wall Mounted Heavy Duty Kitchenware Lid Towels Storage Organizer, Easy Install
Regular price
$15.99
Sale price
$22.55
Brand: Sumnacon
Color: Type 2
Features:
Sturdy - The rail is made of solid stainless steel. Easy to install using the included screws. The kit also include drywall anchors. It's a handsome brushed steel bar that gets all your stuff off your stovetop and out of your drawers.
Classy Looking and Space Saver - Cool looking Pot Rack in your kitchen. You are able to hang pot from the wall instead of the ceiling! It saves so much cabinet space in your apartment kitchen!The rack is sturdy and simple. It makes cooking easier and more pleasant, you don't have to bend down and clatter through a cabinet for the pot or pan you need.
Simple, functional pot rack - Sometimes, simple is better and this simple wall hung pot rack works great.The small hooks that come with it fit through most of handles and the lids, even those with smaller grab handles, rest securely against the wall. You can add an extention easily with the coupler included and hanging towels and pot holders.
These rack are stronger than they look! Easy to install. Saving space is the point right. Looks more stylish on your wall than these pictures show. It has lived and survived extremely well as a utensils hanger, and it's also going to become a brush, dustpan, trowel,your large utensils, whisks, bottle openers, potato peelers,etc hanger.
Strong yet elegant and versatile hanging rail which can be fixed to a side wall or can be secured under a worktop.The hooks glide smoothly along the rail and securely hold any tools. Not only can use in the kitchen, can be used in the laundry, bathroom, bedroom, office, garage, garden to hang other tools.
Publisher: Sumnacon
Details:

WHY YOU WANT THIS TYPE POT PANS RACK?

Great solution for kitchen - Anyone who has ever had a small kitchen can tell you that finding a good way to store your pots and pans and lids will make or break your cabinet situation--high stakes stuff.

It's super affordable, it comes with 7 hooks, and you can store most of your lids up top.
Installation is easy and plenty sturdy for anything you would want to hang on it.
If you have a big kitchen, it's also really nice not having to bend down and dig around for the right pan.
It's extremely convenient just having them hanging there in arm's reach!

Affordable and durable. You can use this to organize your pans,spatulas and other hanging kitchen items.

You also can hang whatever you want on the hooks.even use it for a hat place if you collect them.
It has several potentials depending on the individuals personal needs, but not just limit it to the kitchen.
There are metal universal hooks for you to hang whatever you want up.

This pot pan rack look streamlined and nice. The silver is nice and shiny and doesn't have scratches.You can even hang the lids on hooks if you have space.

This completely changed your kitchen into a clean kitchen with space. You don't have to worry about storage.

Suitable for a variety of occasions for home, can be used for kitchen, bathroom, living room, bedroom and so on.
Easy to assemble and suitable for a variety of wall which have been proved by experiments.

Package:

1 * pot rack with 7 hooks
2 * mounting screws
UPC: 606719427789
EAN: 606719427789
Package Dimensions: 16.0 x 3.0 x 1.3 inches