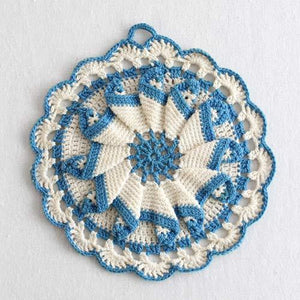 Vintage Blues Potholder Crochet Pattern
Regular price
$6.38
Sale price
$8.50
Watch Maggie review this beautiful Vintage Blues Potholder Crochet Pattern!
Design by: Maggie Weldon
Skill Level: Intermediate
Sizes:
Bluebird #1 Potholder - about 7" wide, 5" tall
Bluebird #2 Potholder - about 7" wide, 7" tall
Pineapple Flower Potholder - about 6½" diameter
Nine-Circle Potholder - about 5" square
Folded Flower Potholder - about 7" diameter
Lacy Folded Flower - about 6½" diameter
Crochet Materials: Crochet Thread Size 10:
Bluebirds (for both Birds): Blue - 150 yds,
White - 60 yds, Black - 12 yds
Pineapple: Blue - 95 yds, White - 70 yds
Nine-Circle: Blue - 50 yds, White - 100 yds
Folded Flower: Blue - 80 yds, White - 60 yds
Lacy Folded Flower: White - 75 yds, Blue - 40 yds
Additional Materials: Thread Needle
Bluebirds: ½" Plastic Rings - 2 (one per potholder)
Crochet Hook: Steel size 7 (1.65 mm) or size needed to obtain gauge. (Gauge is in each pattern.)
Vintage Blues Potholder Crochet Pattern
Overcome the domestic blues and spice up your kitchen with crochet patterns for the cheerful Vintage Blues Potholders. This collection of blue-inspired pot holders brings a touch of vintage class to any place you set them. Potholders a fun project to create and are a great way to add a little crochet decoration in your kitchen. Unlike real vintage pieces, there is no reason why you can't use these pretty blue potholders with your everyday tasks. It is just another reason to make more crochet potholders for you, or consider constructing some as a gift. You can't go wrong with a homemade gift made from these crochet patterns for the special person that you know will appreciate these handcrafted crochet masterpieces.
These crochet patterns create a collection of six potholders include two Bluebirds, Pineapple Flower, Nine-Circle Design, Folded Flower and Lacy Folded Flower. Bluebirds are a symbol of happiness, prosperity, and good health. Every home needs a Bluebird to remind them of these positive aspects. The pretty pineapple potholder is a classic design that is perfect for putting pans in place. Nine-Circle Potholder complements the vintage collection with a size that is handy to use. The Folded Flower design in this collection uses double crochet stitches to create a piece that folds to look like a windmill's blades. The Lacy Folded Flower version of this classic design is a variation that adds charm and daintiness to your collection. These fun potholders range in size from 5 inches to 7 inches, making them an excellent crochet pattern project that you can pack up and take along where ever you go.